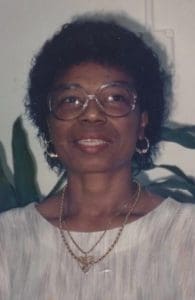 Mary Laurencia Estephane of Estate St. George died April 8. She was 70 years old.
She is survived by her mother, Monica Estephane; daughter, Carmi Estephane Pickering; grandchildren: Carmindy Pickering, Rybeckah Pickering, Chrinity Pickering and Chasidy Pickering; brothers: Bennett Estephane and Joseph Estephane; nieces: Stephanie Estephane, Claudia Estephane and Jacqueline Webster; nephews: Jorge Webster, Alex Webster and Bennett Estephane Jr.; son-in-law, Norbert Pickering Jr.; sisters-in-law: Margaret Estephane and Joyce Estephane; and godchildren: Octavia Griffith and Michael Simeina.
She is also survived by special friends: Lezlie Phillip, Deborah Caines, Robertine Daniel and family, Dr. and Mrs. Dennis Griffith and family, Laurel Royer, Linda Burton, Jean Lett, Octave Griffith, the Chooran family, Lorna Ashby, Marie Simeina, Mr. and Mrs. Thomas Augustin, Jacqueline Ashe, Faculty and Staff at Ricardo Richards School, former Faculty and Staff of the Evelyn Williams School, Denise Vanterpool and Margery Henry; cousins: Laurencia John and family; as well as other relatives and friends too numerous to mention.
The viewing will be held at 9 a.m. followed by the funeral service at 10 a.m., Wednesday, April 24, at St. Ann's Catholic Church in Barren Spot. Interment will be at Kingshill Cemetery.