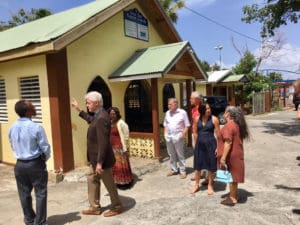 Former President Bill Clinton will convene the Clinton Global Initiative Action Network on Post-Disaster Recovery at the University of the Virgin Islands this June, the Clinton Foundation announced this week.
According to the foundation, the Action Network brings together leaders across the public sector, private sector, and civil society to discuss and develop solutions that address hurricane recovery needs facing the region while laying the foundation for a more resilient and prosperous future.
This will be the network's fourth meeting and the second to be hosted in the region. The Clinton Global Initiative is working with Thomas Secunda of Bloomberg L.P. and St. John nonprofit Love City Strong to convene this meeting.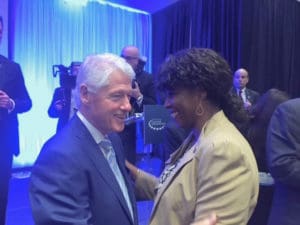 "As we prepare to enter the 2019 hurricane season, it's important that we keep progress going – not only to protect the communities that are still recovering but to show the whole world a successful model of resilience," Clinton said in a statement. "2018 gave us a moment of reprieve. We can't afford to lose momentum. We must continue recovery efforts and seize new opportunities to improve lives," he said.
"With climate change making hurricanes increasingly powerful and destructive, we're helping build a more resilient region that is better prepared to respond to future storms and natural disasters," Secunda said.
"We have been trying new and innovative approaches to disaster recovery in the U.S. Virgin Islands, and we are looking forward to joining President Clinton and other leaders to share what we've learned to help drive action for preparedness across the entire region."
According to the Clinton Foundation, at the meeting, participants will develop more specific and measurable projects that address critical issues such as sustainable energy, small business development, economic growth, housing, education, access to clean water, disaster preparedness and response, and community resilience to assist with immediate needs as well as the long-term recovery in the region.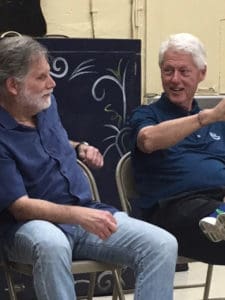 Gov. Albert Bryan said the Clinton Global Initiative's model of Commitments to Action – where partners build and fund solutions – "has been transformative for our islands. Commitments such as supporting vocational training for youth and those that bring solar power to our health clinics ensuring they stay powered in the aftermath of a storm are concrete examples of the collective results we realize by working together."
"Through his work and the convening power of the Clinton Global Initiative, partners across all sectors are working to increase economic growth, access to health care, and reduce poverty – all while building a future for our islands that is sustainable," Delegate Stacey Plaskett said.
The Clinton Global Initiative Network is made possible by the support of partners: IBM, InterEnergy, Swiss Re, and Medtronic.
The network has hosted three meetings, developed 57 commitments, and convened more than 1,100 individuals from government, the private sector, and civil society to address needs in communities across the region. To read a full list of commitments, please visit their website.