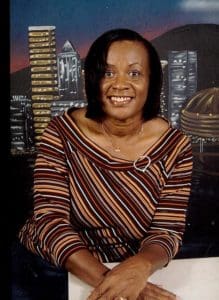 Cynthia M. LeBlanc of Estate Upper Love died on March 27. She was 68 years old.
She was preceded in death by her sister, Ilean Joseph; and brothers: Cecil Joseph, Lincon Joseph and Osker Joseph.
She is survived by her daughter, Tiahna Alliena LeBlanc; companion, Gocum Trim; sister, Ruth Joseph; brothers: Elton Rablot, Gregrey Joseph and Sylvester Joseph; nieces: Sandra Niles, Medrina Joseph and Nekita Janvier; nephews: Earl and Randy Rablot; cousins: Grace Hypolite and Dawner Nicolas; godchildren: Sheran Registe, Chevon Watkins, Tamica Francis and David Sheppard; brothers-in-law: Morris LeBlanc, Hubert LeBlanc, Davidson LeBlanc, Oliver LeBlanc and Justin LeBlanc; and sisters-in-law: Clauddett Maturin, Frances Massicott, Christen LeBlanc, Mary Seepersad and Anthia Rablot.
She is also survived by special friends: Gloria Frett, Thelma Seraphin and Leona Registe; close friends: Dawn Ester Grey, Patricia Letang, Valeria Sheppard, Glenora Smith, Magdaline Samuel, Ava Clark, Kaleed Frederick, Gloria Francis, Lisa Abraham, Delia George, Carlyn Jn Baptist, Celia J. Isles, Bereyle Viere, Anna Rose Charles and Carmen Richards; other relatives and friends: the Trim family, the Abraham family and the New Testament Church family; as well as other relatives and friends too numerous to mention.
A viewing will be held at 9 a.m. followed by a funeral service at 10 a.m., Friday, April 12, at New testament Church of God, Estate Whim. Interment will be at Kingshill Cemetery.