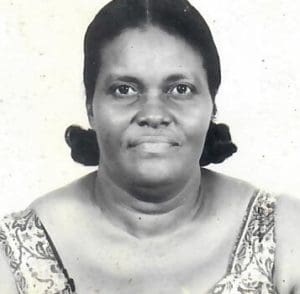 Alma T. Henry died March 20.
She is survived by her daughters: Jocelyn Thomas, Patsy L. King and Geraldine "Janet" Ajani; grandchildren: Daryl Thomas, Latoya Donwell and Sakeitha King; great-grandchildren: Zariyah Donwell, Zaniah Donwell, Maxwell Thomas, Remi Ajani and Sade Ajani; sisters: Dorcas G. Van Putten and Marjorie W. Francis; nieces: Dr. Lilia Henry-Williams, Daphney Henry, Gloria Henry, Joan Henry-Stout, Anthea Henry-Aaron and Dawn Henry-Christian; nephews: Elwin Henry, Earl Henry, Seth Henry and Wilfred Simon; nieces-in-law: Iris Henry, Bertine Henry, Jennifer Henry and Cordella Simon; nephews-in-law: George Williams and Sylvester Christian; and cousins: Christine King and family, Aslyn Williams, and Dorothy Joseph and family.
She is also survived by special friends: Esther and Daun Joseph and family, Mary Donovan, Sis. Harry and family, Sylvia Constant, Laurie Soto, Hyacinth Walters and family, llemna Joseph and family, Neldine Techera and family, George Rodney, Kenneth Edwards, Janet Smith, the Wilshire family, Gwenda Hobson, Roddy, Scottie, Pat, Thelma and family, Romney, Sherry and family, Alice and family, Nica, Grethel Smith and family, Racheal Caleb and family, Prisca and family, Naomi Joseph, Cynthia Richards and family; as well as other relatives and friends too numerous to mention.
A viewing will be held from 3-5 p.m., Friday, April 12, at Divine Funeral Services Chapel, 129 Peter's Rest.
A second viewing will be held at 10 a.m. followed by a funeral service at 11 a.m., Sunday, April 14, at Faith Seventh-day Adventist Church, 37 AB Two Brothers, Frederiksted. Interment will be at Frederiksted Cemetery.