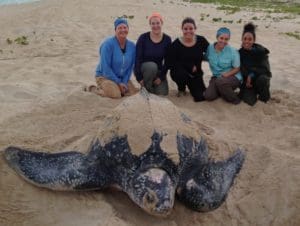 To take part in Turtle Watch at Sandy Point on Tuesday, April 30 and/or Thursday, May 23 from 7:45 p.m. to midnight, meet at Sandy Point National Wildlife Refuge at 7:45 p.m.
Every year from March to August, endangered leatherbacks crawl on to the beach at Sandy Point to lay eggs at 10 day intervals where they themselves once hatched. The refuge is closed to the public from April 1 to Aug. 31 to ensure the protection and proper management of these species that are migratory and native to St. Croix.
Each season, volunteers and research assistants contribute their time and energy to protect nests, collect data on nesting females and hatchlings, and monitor the progress of the season. The turtle season is a good time to be vigilant on all nesting beaches on St. Croix as the endangered green and hawksbill sea turtles crawl ashore and hit peak in August — during leatherback's migration to the North Atlantic Ocean.
The Turtlewatch Program is a special opportunity to learn about St. Croix's marine turtles and wildlife at Sandy Point. Join the St. Croix Environmental Association (SEA) for a starry night at the refuge for a biology talk on the endangered leatherbacks and the wild potential to see a nesting female. Please be aware of the natural conditions, mosquitoes, no-see-ums (sand flies), soft sand and darkness. No food, toys and trash are allowed inside the refuge.
To sign up for Turtlewatch, a participant must be a member of SEA. There are limited spots available. If a member already, contact SEA at [email protected] or 773-1989 to reserve a spot. Children must be 6 and older to participate in this activity. Click the link below to become a member today.
The United States Fish and Wildlife Service (USFWS) offers the Turtlewatch Program to community groups and youth groups. The program runs from Tuesday through Saturday, April 15 to July 31. If people would like to schedule their own group for a Turtlewatch with USFWS, they should call 690-9452.
To learn more about Sandy Point's Leatherback Project, follow Sea Turtle Census Initiative on Facebook for news and updates.
"We can share beaches and ocean with sea turtles, but it requires commitment and effort on our part. We can make certain that future generations will have the opportunity to know these unusual animals."
The late Dr. Archie Carr, a sea turtle scientist and author who almost singlehandedly began to turn the tide on the extinction of sea turtles, summed it up when he wrote, "For most of the wild things on earth the future must depend upon the conscience of mankind."
"Our planet has come to an unprecedented point in its history where the actions of one species – man — will determine the fate of life on earth. It is not too late to ensure a future for sea turtles," said Victoria B. Van Meter of Florida's Sea Turtles