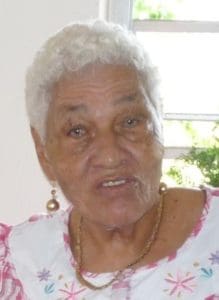 Louise E. O'Reilly of Estate Mon Bijou died on Wednesday, March 6. She was 94 years old.
She was preceded in death by her children: Owen James Sr., Harold Pemberton and Hugh O'Reilly Sr.; and grandchildren: Indio James and Dorian James.
She is survived by her children: Roland Plaskett Sr., Coreen Hughes, Howard C. Daniel, Craig Pemberton and Ray Pemberton; and grandchildren: Roland Plaskett Jr., Ronald Plaskett, Rondale Plaskett, Rhonda Plaskett, Leon Hughes, Loren Hughes, Tiffany Daniel-Thompson, Taira Daniel, Tyrell Daniel, Tiffany Pemberton, Candis Pemberton, Marjorie Pemberton, Owen James II, Tinea James, Kendall Pemberton, Michael O'Reilly, Hugh O'Reilly Jr. and Kandiss O'Reilly.
Also, great-grandchildren: Tyshanda and Kaila Plaskett, Letysha Plaskett-Rosario, Raheem, Ronald Jr., Isaiah Plaskett and Deondre Plaskett, Rondale Plaskett Jr., O'Koye, O'Kai and O'Khari Hughes, Ja'den Harding, Ja'nae, Damien II and Jynel Thompson, Avery Pemberton, Tylia Hall, Adrian George, Terry Garrett, Callia and Camille Matthews, Aleena McFarlande, Naieem Marcelle, Antonya, Nahjeri and Alaysia James, Dorian Jr. and Daijae James, Rakiid, Annya and Dorian James, Owen Etienne, Owen III, Tariq, Yacir and Sunita James, Michael O'Reilly Jr. and Jovanni O'Reilly.
Also, great-great grandchildren: Niayana Edwards, Eleani Rosario, Greyson Marcelle, Dorian III and Kemuel James, Kemai, Owen IV and Sienna James; nieces: Barbara Venetis, Sandra O'Reilly and Sylvia Gibbs; nephews: Brian O'Reilly and John O'Reilly; great nieces: Anita Gibbs, Eva Gibbs, Reesa Thurland, Michelle Gibbs, Gina John, Stephanie Osbourne, Cinnamon O'Reilly, Candice O'Reilly, Bridget O'Reilly and Cheryann Venetis; great nephews: Michael O'Reilly, Ronald O'Reilly, Brian O'Reilly, Blayr O'Reilly, Stephen O'Reilly, Brandon O'Reilly, Bryan O'Reilly, Alex Peterson and Wayne Peterson; son-in-law, Albert Hughes; daughters-in-law: Patricia O'Reilly and Rosalynn Feagins; and grandson-in-law, Damien Thompson.
Other survivors include granddaughters-in-law: Yvette Plaskett, Alejandra Garcia-Plaskett and Samantha Saldivar O'Reilly; and special friends: Alvin M. A. Milligan, Mr. and Mrs. Bradley E. Christian, Gloria Joseph, Josephine B. Hector, Albert and Maria Schuster, Miguel and Liz Nico, Joan Penn and family, Jennifer Logie, Latifa R. Mack and family, Radiah James and family, the Gumbs family, Patricia Charles, Leroy Brooks, Alma C. P. Christensen, Betty Wilson, the Cumberbach family, Ada A. Acoy, the O'Reilly's, the Walcott family, the Angel M. Linquist family, Eunice Pemberton, Carlotta E. Moorehead, Virginia Peguero, Rosie Mackay, Sacred Heart Society Members, Retired Nurses Association, Rev. Eulencine Christopher, Friedensberg Moravian Church family, Inez B. Williams, Fr. Richard and Mary Abbott, St. Patrick's Church family (10 a.m.), ICM Sisters, the Meals on Wheels staff, Annette Kriegger, Sarah James and the Clarke family; as well as other relatives and friends too numerous to mention.
Special thanks to Latifa R. Mack, Anna Brewster and Continuum Care.
The family requests that those in attendance wear festive colors.
A viewing will be held at 9:30 a.m. followed by a funeral service at 10:30 p.m., Friday, March 22, at St. Patrick's Catholic Church. Interment will be at Frederiksted Cemetery.