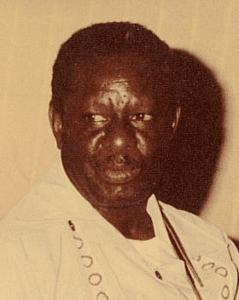 Veteran Leslie Alfredo James Sr. of Estate Anna's Hope, Christiansted, St. Croix, died Feb. 27 at the Veterans Hospital in Puerto Rico. He was 94 years old.
He is survived by his wife, Hilarena B. James; daughters: Sherill Martinez, Denise James (N.C.), Donna Gonzalez, Corliss James Augustin, Lenore James (Wash.) and Lynell James; sons: Leslie James Jr., Raymond James Esq. and Melroy James; grandchildren: Ray Martinez, David Martinez, Juan Martines, Gregory Martinez, Shaniqua, Shanessa King, Robelto Martinez, Juwan Gonzalez, Jaleesa Gonzalez, Tamara James Forbe and Florisa James; and great-grandchildren: Saadiq Hodge, Saadani Hodge, Jaydin Velasquez, Aaydin Johnson, Zamari Swanston, Dynel Martinez, Sundara Martinez, Jayden Martinez, Taevon Martinez, Anthony Martinez, Jaylah Martinez, Ray Martinez II, Kiandra Martinez and Rayden Martinez.
He is also survived by sister, Alicia Hewitt; sons-in-law: Claudius Augustin and William Gonzalez; daughters-in-law: Lystra James and Leatrice Potter James; nieces: Priscilla Farrelly, Laurel Hewitt Sewer, Shelburne "Shelly" Hewitt and Yvonne Wilson; nephews: Leslie Farrelly, Gregory Abbott, Edward Nelson, Alfredo Nelson, Errol Nelson, Delbert Sebert Jr., Hainsley, Glenn, Ronald, Vaughn Hewitt and Raymond Krauser; as well as other relatives and friends too numerous to mention.
There will be a viewing at 10 a.m. followed by funeral services at 10:30 a.m. Interment will be at Kingshill Cemetery, Veterans Section.