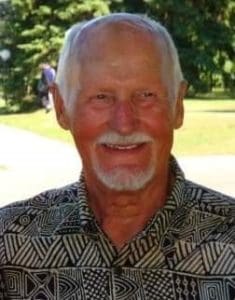 Kent Van Meter, 83, of Webster, Minn., passed away peacefully Sunday, March 3, at his home on St. Croix, USVI.
After retiring from the St. Paul Public School System, Kent and wife Judy immersed themselves in their shared passions for motorcycles, airplanes and traveling. When not traveling, they enjoyed their time together and with their "Northern Friends" at their home in Sky Harbor Air Park. They spent their winters among many friends on St. Croix, U.S. Virgin Islands, at the home they built together. Kent was also a military veteran having served four years in the U.S. Air Force, some of it during the Korean War.
He was preceded in death by his loving wife, Judy; his parents: Mary and Tom; and his brother, George.
He is survived by his two daughters: Linda of Eagan, Minn. and Wendy of St. Paul, Minn.; his son, Tom of Kittanning, Penn.; a sister, Boneita of Lakeville, Minn.; and four grandchildren: Shawn of Bend, Ore., Eric of Arvada, Colo., Kevin of Plymouth, Minn., and Michelle of Plymouth, Minn.
Kent was also blessed with eight great-grandchildren: Lia, Molly, Anna, Maya, Jake, Emma, Harry and Ryder; as well as his many nieces, nephews, and cousins. Kent leaves behind many friends in the aviation and motorcycle communities as well.
The family will be holding a private service and asks that any memorials be sent to the St. Croix Animal Welfare Center at www.stcroixawc.org.