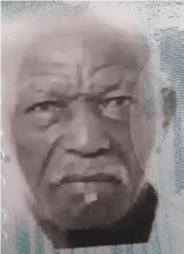 Epiphane Baptiste, better known as "Franklyn Gerald," "Franco" or "Shoy," of Estate Williams Delight died on Wednesday, March 6. He was 83 years old.
He is survived by his wife, Maria Baptiste; siblings: Cyril Baptiste, Ceyone Antoine Anzie, Wivinna Louisy, Geraldine Richardson and Ellena Baptiste; daughters: Keturah Baptiste, Reiah Dyer, Sisely Baptiste, Sharna Baptiste and Magdeline "Linfa" Joseph; sons: Randy Baptiste, Denfield Baptiste, Lunmus Baptist, Sintron Baptiste and Kelly Daniel; adopted sons: Grantley Richardson and Joseph M. Albert; and stepchildren: Vincent Marcellin, Virginia Nelson and Gregory Marcellin.
He is also survived by his son-in-law, Jay Dyer; daughters-in-law: Sandra Baptiste and Kimberly Baptiste; grandchildren: Ruben and Maddox Baptiste, Marlus Jn Pierre, Sharnaia and Shane Odol, Kafeel Kisna, Lawsen Baptiste, Kellian and Kay Jay Daniel, Katherine Daniel, Adina and Keziah Dyer, Johan and Herbie Joseph, Jahmokei and Azaliah Baptiste, Charles Baptiste, Adzayhlea J'Dream Figueroa and Maxi Amillio Dandas; and great-grandchildren: Bria Baptiste, Gem, Shanshez, Donaldlyn, Julia and Jayden.
Other survivors include special friends and families: Arthur Joseph, McFarlane family, Augustine family, Veronica Richards, Pastor Heskett Matthews, Mike Cumbermark, A. H. Hanchsen and family, Amedee family, Violet Hamilton, Alvaro "Mita" Morales and Janis Esannason, as well as many other close friends and families too numerous to mention; and other relatives, nieces, nephews, cousins and friends too numerous to mention.
There will be a viewing held at 9 a.m. and a funeral service at 10 a.m., Sunday, March 24, at Central Seventh-day Adventist Church. Interment will follow at Kingshill Cemetery.