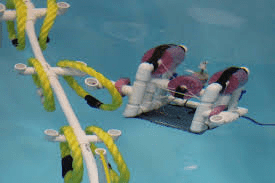 The Virgin Islands Department of Education — Office of STEAM Education and the Office of Naval Research, Science and Technology invite the public to the SeaPerch Robotic Competition set for 10 a.m., Saturday, March 30, at the Beeston Hill Health and Fitness Center Pool, St. Croix.
During the competition, students will use underwater, remotely operated vehicles they have built themselves known as ROVs or SeaPerches, to complete an underwater obstacle course that tests the speed and agility of the robot.
The competition will include two in-pool components: an obstacle course and a challenge course.
The obstacle course tests high-speed maneuverability and requires the ROV to navigate the course as quickly as possible. The SeaPerch operator must develop the skill to turn and adjust the vertical position (dive or ascend) while driving in full or near full speed. The operator must be able to quickly reverse the SeaPerch to make corrections if it is off course.
The Mission Course will incorporate a mission that teams must complete with their SeaPerch related to rescue and recovery.
Winners of the SeaPerch Robotic Challenge will move onto the 2019 National SeaPerch Challenge on June 1-2, 2019 at the University of Maryland in College Park, Md.