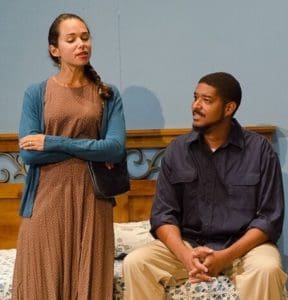 The Caribbean Community Theater (CCT) continues its 34th season with "These Shining Lives," a play by Melanie Marnich, which is based on the true story of the 'Radium Girls.' There will be six performances of this play over two weekends: Fridays and Saturdays at 8 p.m., March 15-16 and 22-23, with two Sunday matinees on March 17 and 24 at 4 p.m.
"These Shining Lives" is a work of creative nonfiction inspired by real people and actual events. This play moves between fact and fiction, between reality and imagination, to create a theatrical world. These play chronicles the strength and determination of Catherine and her friends and their story of survival in its most transcendent sense, as they refuse to allow the company that stole their health to kill their spirits — or endanger the lives of those who come after them.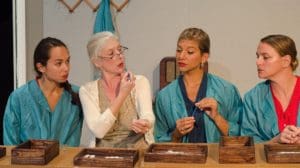 "…has a humanistic glow…clockwork precision…an initially comic and ultimately tragic look at how individual women find employment within a system more concerned with profit than safety." — Variety.
"Perfect, touching and wistful…beautifully tragic." — Talkin' Broadway.
"The stakes could not be more vividly portrayed. [Catherine's] courage shines brighter as her body weakens. Still, we leave the theater aching from the impact of this true tale, which only gains power from the artifice of its telling." –ExpressMilwaukee.com.
Heather McRae directs the cast: Michael Baker, Carisma Bishop, Adele DeWitt, Leslie Marie Henderson, Paul Knipler, Laura Kuras, Avory Resca and Michael Wright.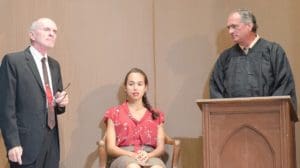 Tickets are $20 for adults, with discounts for seniors, students and CCT members, and may be purchased at the CCT box office prior to each show. The box office opens 45 minutes before curtain. This play is not recommended for children under age 13.
All performances are held at the Caribbean Community Theatre at 18 Estate Orange Grove in Christiansted, St. Croix.
CCT productions are jointly supported by a grant from the Virgin Islands Council on the Arts and the National Endowment for the Arts. "These Shining Lives" is co-sponsored by Christiansted Apothecary Hall, JKC Communications of the VI, Marshall & Sterling Insurance, Seascape Pool Center, and Team Consultants.
For more information, visit the CCT website: www.cct.vi or call 778-1983/ 718-4229, or email: [email protected].