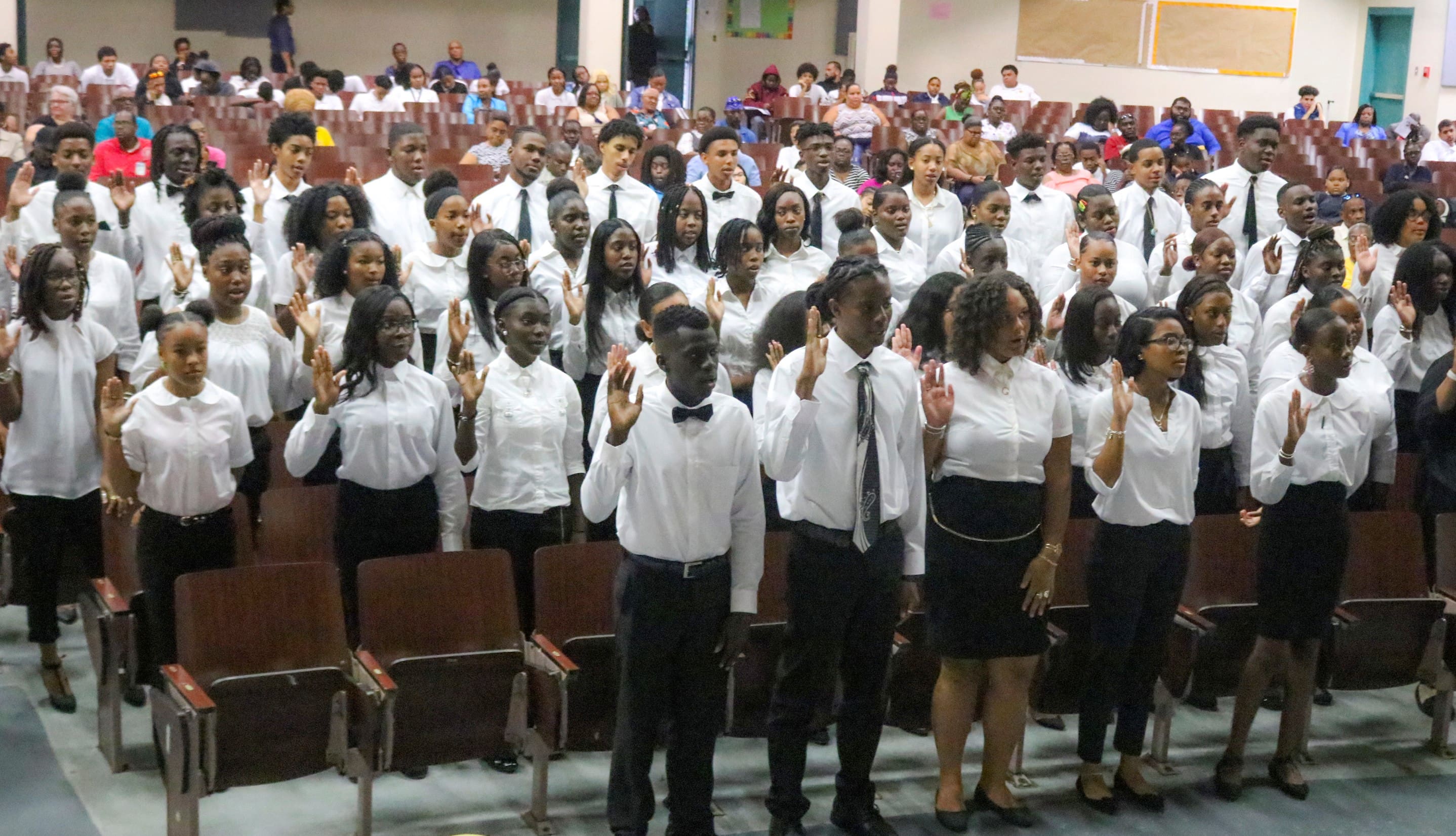 The St. Croix Educational Complex High School (SCECHS) inducted 56 students into the district's first Science National Honor Society on Wednesday, March 6, in the school auditorium.
Principal Genitta Richards welcomed inductees, parents, faculty and staff to the inaugural ceremony.
"A pleasant and warm Barracuda welcome to each of you! Here today we have 56 students being inducted into the Science National Honor Society," she said. "How fitting is it that in this month where we celebrate V.I. History, Women's History and Music in Our Schools Month, we now celebrate each of you on this achievement.
You are indeed making history for being the first young men and women inducted into the Science National Honor Society here at the St. Croix Educational Complex High School. For years to come, your names will be written in our school's history as the pioneers of this honor society."
St. Croix District Science Coordinator Rosa White reflected on the significance of the inductees' achievements, both locally and nationally.
"You represent 6 percent of your school population, 1 percent of the St. Croix District and .00001 percent of the national high school population," White said. She reminded the students to "remain focused and stay dedicated to the task at hand."
Marisha Perkins, St. Croix Central High School biology teacher and alumna of the St. Croix Educational Complex High School, delivered her keynote speech on the critical need for students of color majoring in the math and science disciplines.
"Quality science education is paramount to understand our global community and the advancement of society, but more importantly, diversity in the STEM fields is crucial," she said.
Perkins received a bachelor's degree from the University of the Virgin Islands in applied physics and chemistry, and a master's in chemistry from Duke University, where she graduated summa cum laude.
"During graduate school, the amount of black and Hispanic students in my science program was less than 5 percent of the entire department. As a society, we need to improve on these numbers."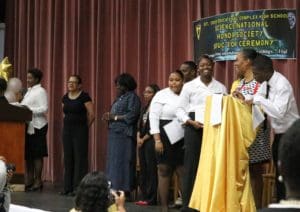 Perkins ended her speech offering advice to the student scholars. "Always have confidence in yourself and your own abilities, and always acknowledge the importance between balancing what makes you successful versus what others say make you successful. For me, success and fulfillment came from developing myself in science education," Perkins said.
Inductees recited the oath of office and accepted their certificates of membership. They then signed the induction book and received their membership pin from the science instructors.
Sen. Alicia Barnes, whose daughter was an inductee, attended the event, as well as a representative from Sen. Novelle Francis' office.
The Science National Honor Society was established in 2000. Its purpose is to encourage participation in and recognize scientific and intellectual thought; to advance students' knowledge of classical and modern science; to communicate with the scientific community; to aid the civic community with its comprehension of science; to encourage students to participate in community service and, encourage dedication to the pursuit of scientific knowledge that benefits all humankind.
The newly inducted students and charter members of the St. Croix Educational Complex Science National Honor Society are:
Liza Perdomo Alvarez
Dianna Arthurton
Shazim Brandy
Shamara Butcher
Dwayna Byrde
Shealeen Cazaubon
Amaya Christian
DaReone Christopher
Shaniah Clifford
Kimara Cooper
Kyarra deChabert
Amari DeSouza
Sulaiman Donaie
Khaien Donawa
Michael Dow, Jr.
Yazira Encarnacion
Melissa Ferreras
Joshua Francis
I-O'Diesha Frederick
Deshanna Fregiste
Nashaira Gonzalez
Tamia Grant
Jamoy Hardy
Wanisha Harris
Junisha Henry
Sanay Hewitt
Xavier Hinkson
Jenna Honore
Allana Jackson
Reann Joseph
Conrad Laurent
Shaharah Laville
Joshua Maillard, Jr.
Makaliah Mason
Phar-I Merchant
Elijah Motta
Nayeli O'Shaughnessy
Brianna Perdue
Kathy Platt
Taaliyah PreVost
Serenah Prospere
Nabria Ritter
Glerysbeth Rivera
Ajani Saldana
Christopher Samuel, Jr.
Deyaneira Sigobin
Adonai Smith
K'Shante Springer
Talique Stephens
Nia Sylvester
Keishla Torres
Destinee Turnbull
Demi Trimm
Janay Ventura
Tatyana Wheeler
Gidal Williams