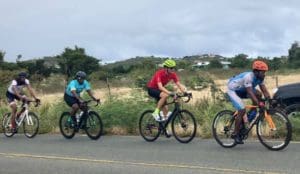 The Virgin Islands Cycling Federation (VICF) held the Donald's Challenge Road Race on Sunday, which is an annual race held in memory of St. Croix cyclist Donald Christian, who passed away suddenly in 2016.
The entrance to Ha' Penny Beach on the South Shore Road was set as the staging area, while 35 cyclists signed up to ride under overcast skies and strong winds. Christian's family was on site to cheer on the cyclists as they completed 42, 28, 21 or 14 miles.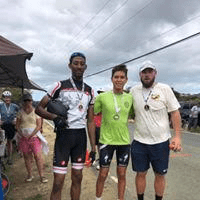 Eight Elite cyclists were lined up at 7 a.m. to take on six laps of the 42-mile course. The whole group rode together until the fourth lap when Dominic Pugliese, Mikey Dizon-Bumann, Scott "Moose" Marusa and Mark Defour pulled ahead of the rest. On lap five, Pugliese planned an attack but then experienced a mechanical issue and dropped out. That left Dizon-Bumann with Marusa to broaden the gap by over two minutes. It came down to a sprint finish on lap six as youth outweighed the mass. Dizon-Bumann crossed the line in 2:06:27; Marusa was second in 2:06:36. Mark Defour outsprinted Jerry Remie for third place in 2:12:22.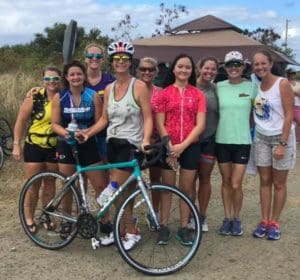 The strong group of Expert riders were divided by the end of the first lap of their four-lap race. Morgan Theophane, John Harper and Dedrick Luikens added a minute to their lead by lap 2, nearly catching up to the Elite riders. Luikens suffered a flat on lap 3, which gave Theophane the chance to grab more time in front of Harper. Harper recovered time on the final lap and finished one second behind Theophane in a time of 1:25:54. Troy Holloway and former V.I. cyclist Tim Smith rode together for the whole race. Holloway crossed the line in third place one second ahead of Tim in a time of 1:27:40.
The Sport group was mixed with the women's category, as they all covered three laps or 21 miles. A mixed group of eight cyclists rode together for the first two laps, while the newcomers were starting to feel the distance in their legs. Olani Vanterpool gave a good challenge to Miguel Cruz as they sprinted for first place. Vanterpool was first in 1:12:29; Cruz finished with the same time; Kasey Canton was third, just 3 seconds behind them. The first-place female was Catherine Seguin; Megan Lambert was second in 1:12:38; Laverne Fredericksen was third.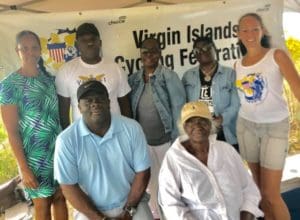 The small Masters division also completed three laps. Hubert Abraham took first place in 1:20:57; Valentine Dore was second in 1:24:46; Fred Rollins was third. A modified distance was set for two junior riders, Mason Lambert and Miko Dizon-Bumann, who started the race with the Masters riders. They rode 2 laps (14 miles) only. Mason finished in 59:39 while Miko crossed the line in 1:10:31.
The next race on the VICF schedule is at 7 a.m., Sunday, March 17. For more information about cycling in the Virgin Islands, call 322-6282.