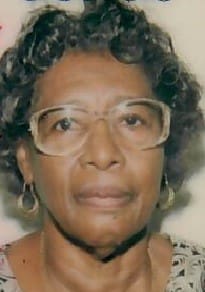 Adriana Irona Maria Dublin died on Feb. 12.
She is survived by her spouse, James E. Dublin Sr.; daughters: Avernell Simon and Ruth A. Dublin; son, James E. Dublin Jr.; grandchildren: Deshawn Roberts, Andrea L. and Bartinemus L. Lawrence, Craig E. and Kimberly E. Durant, Joey, Johnathan and Julia Dublin; great-grandchildren: Kamaley, Demarie, Demanie and Destiny Roberts, Laquwan, Jahquan, Jahseim, Deonte, Jahlora, Devia, Malik and Malaya Lawrence; adopted children: Ruth Wilson, Renford Wallace and Kenrick Robertson Esq.; and brother-in-law, Steadman Dublin Sr.
She is also survived by sister-in-law, Patricia Sackey-Dublin; nieces and nephews: Joycelyn Dublin, Yvonne Dublin-Jacobs, Erica Dublin-Thomas, Alphonso and George Dublin, Alva and Larrydow Jacobs, Dale Drew, Azariah and Aliah Thomas, Steadman, James and Trisha Dublin, Joan Roberts and Marinela Colbourne; cousins: Alex, Jerome, Wally and Bridgette Browne and Cerene Roberts; and godchildren: Beverly and Judith Samuel, Steadman Dublin Jr., Kimberly Green, Janet Bolton, Bridgette Browne, Susan (Suzie) Williams and Franklyn (Frankie) Richardson Jr.
Other survivors include close friends: George Baptiste, Karen Acoy and Family, Elba Proctor and family, Doreen James and family, Frank Richardson and family, Eileen Martin and family, Rolston Henry and family, Patricia Springer and family, Amos Winter and family, Charlie Green and family, Raymond Adams and family, the Simon family, Sackey family, Phillip family, Browne family, Ms. Gloria, Mr. Nixon, Mr. Williamson and staff at Kmart Pharmacy; as well as other relatives and friends near and far too numerous to mention.
A special thank you is given to the doctors and nurses at JFL Hospital, ER and VICC, Continuum Care, Sharleen Sullivan, Dr. Haly, Dr. Smith and Dr. Owen, Fr. Boniface Blanchard, Sister Mary, all the ICM Sisters, St. Patrick's Sacred Heart Society and Clarissa Messer Petersen.
The funeral service will be held at 10:30 a.m., Thursday, Feb. 28, at St. Patrick's Catholic Church, Frederiksted. Interment will follow at Kingshill Cemetery.