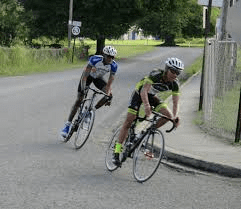 Since 2016, because of deteriorating roads in Frederiksted, the VI Cycling Federation (VICF) had stopped holding its annual La Grange Circuit Race, which started and finished at Fort Frederik. The race committee re-established the multi-lap cycling race this past Sunday, which included four categories set for three distances.
The Elite group covered the 8-lap course with five out of six riders making it to the finish line. Scott Marusa pulled out of the race after he completed the fourth lap due to a broken cable. Marusa, known as one the strongest Elite riders, left high school senior Dominic Pugliese to lead alone. Pugliese finished in first place with a time of 1:47:06, nearly catching Mark Defour and Joey Swanson as they completed their 7th lap. Jerry Remy rallied and finished in second with a time of 1:51:53; David Parris was just behind him with a time of 1:51:55.
Clive Parris and Ralph Bartlett, the two Expert riders, rode together for the entire race until Bartlett edged out Parris at the line, both finishing with a time of 1:36:12, for 6 laps.
The Sport and Masters rolled up to the starting line together for their 3-lap race. Joseph Thomas, a Masters rider, stuck with Sport for 2 laps and finished in first place with a time of 43:50, just behind the first four Sport riders: Olani Vanterpool, James Meyers, Kasey Canton (same finish time of 43:36) and Terra Canton (43:41). Fifth place rider, Yves Abraham, was just behind also, with a time of 43:55. The second place Masters was Valentine Dore (51:41); third place Masters was Fred Rollins (1:06:44).
The next race on the VICF schedule is the National Guard Loop Race at 7 a.m., Sunday, Feb. 24. For more information, call 332-6282.
La Grange Circuit Race – Frederiksted, St. Croix – Feb. 10, 2019
Elite: 36.0 miles Total Time
1 Dominic Pugliese 1:47:06
2 Jerry Remy 1:51:53
3 David Parris 1:51:55
4 Joey Swanson 1:55:37
5 Mark Defour 2:08:49
Scott Marusa DNF
Expert: 27.0 miles Total Time
1 Ralph Bartlett 1:36:12
2 Clive Parris 1:36:12
Sport : 13.5 miles Total Time
1 Olani Vanterpool 0:43:36
2 James Meyers 0:43:36
3 Kasey Canton 0:43:36
4 Terra Canton 0:43:41
5 Yves Abraham 0:43:55
6 Laverne Fredericksen 0:46:21
7 Greg Williams 0:54:44
8 Judy Gario 0:56:32
Masters: 13.5 miles Total Time
1 Joseph Thomas 0:43:50
2 Valentine Dore 0:51:41
3 Fred Rollins 1:06:46