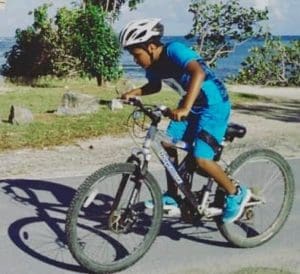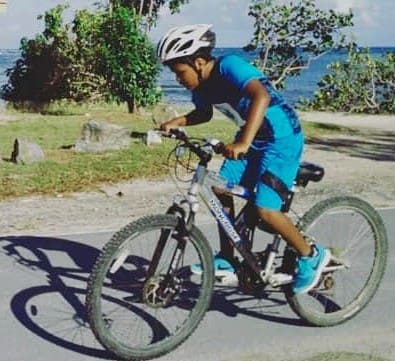 On Sunday, nearly 30 children wearing "silly socks" lined up for the Junior Tri VI Duathlon event at the Susana Ocasio-Santana Park in Gallow's Bay. The Silly Sockathlon brought out runners and bikers, ages 5 to 12, from eight schools on St. Croix in addition to several home-schooled children.
Children in the 5-6 years-old category ran .25 mile on a small loop within the park, followed by a .5-mile bike ride on a larger loop and finished with another .25-mile run. Hudson Mirocha, Drew Sommer and Carter Rojas were the top finishers.
Although the bike ride and second run were increased for the 7-8 years-old category, they still crossed the line with smiles and high fives. Henry Collins, a student from St. Croix Montessori School, was the first-place finisher. First-timer Tristan Samuel and Kai Tanguay were close behind in second and third places, respectively. Ella Chewning, from Good Hope Country Day School (GHCDS), was the top female finisher and 8th overall.
"I always love to watch the race unfold for the 9-11 group," said Theresa Harper, one of the organizers of the race. "Many of these kids have been participating in the Junior Tri VI events since the age 5, and it brings me joy that they have remained active and interested over the years."
Cole Sommer, who runs track on the GHCDS team, held his lead right from the start and finished ahead of second place finisher Connor Bass by nearly one minute. Teague Gleason, who raced for the first time in the 9-11 age group, was third. Candace Felix, also on the GHCDS track team, was the first-place female and fourth overall. Helen Collins was second and Joanne McJunkin was third.
The lone participant in the 12-15 category was Kirra Lambert. Her twin brother, Mason, along with Kaeden Gleason, joined Lambert at the start to cover a longer, more challenging distance. While Lambert completed a .5- mile run, a 3-mile bike and a one-mile run, the boys took on a course that included a 1-mile run, a 5-mile bike and a 1-mile run. Mason Lambert and Gleason used the race as a training session for an upcoming, off-island triathlon.
Each participant was given a goody bag at registration that included a pair of silly socks, water bottle and snacks. A raffle was held at the conclusion of the presentation of the awards to wrap up the fun morning.
The next event on the Junior Tri VI schedule is the Spring Fling Triathlon set for 8 a.m., Sunday, March 3, at Cramer's Park.
For more information, call 513-2707.
Results of the Junior Tri VI Silly Sockathlon at Altona Lagoon Park, St. Croix, on Feb. 10, 2019
5-6 years-old (.25-mile run/.5-mile bike/ .25-mile run)
Place Name TOTAL run/ bike/ run
1 Hudson Mirocha 0:08:15 0:02:04 0:03:12 0:02:59
2 Drew Sommer 0:10:03 0:02:04 0:03:16 0:04:43
3 Carter Rojas 0:02:47
7-8 years-old (.25-mile run/1-mile bike/ .5-mile run)
Place Name TOTAL run/ bike/ run
1 Henry Collins 0:12:24 0:02:05 0:05:10 0:05:09
2 Tristan Samuel 0:12:32 0:01:50 0:05:08 0:05:34
3 Kai Tanguay 0:12:41 0:02:05 0:05:07 0:05:29
4 Ezekiel Tutein 0:14:11 0:01:50 0:05:08 0:07:13
5 Xander Morales 0:14:25 0:02:11 0:04:52 0:07:22
6 Beckett Archambault 0:15:23 0:02:05 0:05:54 0:07:24
7 Nicholas Colmenares 0:15:59 0:02:05 0:06:30 0:07:24
8 Ella Chewning 0:16:16 0:02:17 0:07:17 0:06:42
9 Chad Lewis 0:16:17 0:02:06 0:06:41 0:07:30
10 Gabby Falchek 0:17:50 0:02:20 0:08:20 0:07:10
9-11 years-old (.5-mile run/1-mile bike/ .5-mile run)
Place Name TOTAL run/ bike/ run
1 Cole Sommer 0:12:43 0:03:54 0:04:14 0:04:35
2 Connor Bass 0:14:07 0:04:13 0:04:37 0:05:17
3 Teague Gleason 0:15:28 0:04:18 0:05:35 0:05:35
4 Candace Felix 0:16:07 0:04:39 0:05:39 0:05:49
5 Ozzy Odom 0:16:13 0:04:41 0:06:09 0:05:23
6 Eric Sommer 0:17:55 0:04:31 0:07:15 0:06:09
7 Helen Collins 0:17:57 0:04:43 0:07:50 0:05:24
8 Aden Rojas 0:18:14 0:05:33 0:06:28 0:06:13
9 J. McJunkin 0:18:48 0:04:53 0:06:57 0:06:58
10 Ari Jaffurs 0:19:36 0:04:43 0:08:32 0:06:21
11 Hana Bronstein 0:19:38 0:05:33 0:05:55 0:08:10
12 Zyah Rogers 0:20:19 0:06:05 0:05:55 0:08:19
12-15 years-old (.5-mile run/3-mile bike/ 1-mile run)
Place Name TOTAL run/ bike/ run
1 Kirra Lambert 0:28:56 0:04:17 0:14:08 0:10:31
Unofficial 1-mile run/5-mile bike/ 1-mile run
1 Mason Lambert 0:35:53 0:07:26 0:19:20 0:09:07
Kaeden Gleason 0:07:32