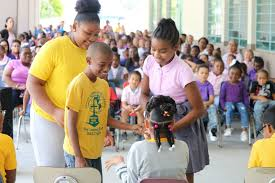 Sen. Alicia V. Barnes and Sen. Novelle E. Francis have adopted the Alfredo Andrews Elementary School.
During a meeting with Principal Andrea Hobson on Thursday, Feb. 7, a list of potential projects geared towards upgrading the school environment for the benefit of its pupils, teachers and staff was discussed. The projects include the installation of new benches and picnic tables around the campus, mulch placement to act as a dust suppressant, and a resurfacing' of the basketball court.
"There are a number of simple things that can't be done through the Department of Education that can make the students comfortable and to just help them enjoy their day," Hobson said.
Alfredo Andrews currently has a population of 453 students, making it the largest public elementary school on St. Croix since the school merged with Charles H. Emmanuel Elementary School in 2015 due to low enrollment in both schools.
"I want to be able to make a difference in the school, big or small. I've already spoken to a few contractors who are willing to donate resources to assist. There's just so much that we can do to help make this an optimal learning environment for our students. The Alfredo Andrews School is near and dear to my heart because it is the elementary school [that] I attended from kindergarten to 6th grade. Many of my lifelong friendships began at Alfredo Andrews. I am happy to partner with Senator Francis in this initiative as he too attended the Alfredo Andrews School," Barnes said.
"I think this a great opportunity for us to partner and reach back into our community, and more importantly a school that we have attended, Alfredo Andrews School. I welcome that opportunity, and I will be working with Senator Barnes and Ms. Hobson and the faculty at Alfredo Andrews School to be able to assist them in some of their endeavors and those things that they have earmarked as necessities that need to be taken care of. That way we can really ensure our students continue to enjoy the benefit of having a good education," Francis said.
"We're grateful and honored that they chose Alfredo Andrews, and we will accept the help graciously," Hobson said