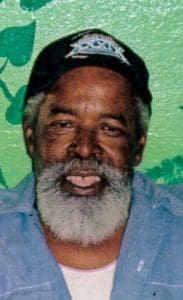 Roy Alphonso Rodgers, also known as "Yahye," of Estate LaGrange, Frederiksted, died on Thursday, Jan. 31.
He was preceded in death by his grandmother, Annie Eliza Bastian Williams; mother, Severina M. Williams; father, Elijah Rodgers; sister, Beulah Abramson; and brothers Eldridge Cornelius and Ulric Payne.
He is survived by his wife, Lorraine Artimus Rodgers; daughter, Deborah Rodgers; grandchildren: Kimani Smith, Shakimo and Shake'Ja Clarke; sisters: Alice Payne Roach, Theresa Hendrickson Thomas, Delores English Edwards, Mercedes Eastman, Annette Eastman and Juanita Eastman Joseph; brother, Wayne Payne; brothers-in-law: Eustace Roach, Beresford Edwards, Petrie Joseph and Kingsley Roberts; sisters-in-law: Myrna Payne and Frances Artimus Sanders; and nephews: Gregory Carrington, Darnel Richards, Wendell D. Thomas Jr., Eustace Roach, Kareem Parris, Wayne Parris Jr., Kaya Payne, Roolston and Rashan Gumbs, Khalid Edwards, Dimitri Joseph, Ojmar Sanders and Kyor Sanders.
He is also survived by nieces: Darleen Carrington, Palmira Roach Wahkisi, Ayanna Payne Irwin, J'Ada M. Thomas, Shevon Johnson, Maria Edwards, Kayana Payne, Rakeema Hopkins, Valerie Campbell and Apryl Campbell; cousins: Palmira Martin Benjamin, Bradley Christian and family, Elizabeth Lynch and family, Inez Byron Williams and family, Glen Bryon and family, Florabel Miller and family, Debra Miller Hendrickson and family, Agneta Bailey and family, Theodore Brow and family, Charles Brow and family, Patricia Williams and family, Valerie Williams Greenidge and family, Rupert and Evelyn Williams and family, Mildred Williams and family, Ohaldo Williams and family.
Other survivors include cousins: Sylvia Bastian and family, Violet Matthew and family, Geraldine Edwards Samuel and family, Eunice "Tiny" Edwards, Eugenie Bastian, Lucien Bastian, Ray Isles, Eleanor Fraser and family, Darius George and family, Wanda L. Morris, Clarissa Morris and family, Corinne Messer and family, Tony Messer and family, and the extended Bastian, Watts, Francis, Christian, Messer, Rodgers, and Williams families; close friends: Vernon Barnes, Kenneth Garcia, Frank Richardson, Delroy Thomas, George Farrell, Warren Allick, Sunny Seales, Frederick Carr, Stanley Norman, Tyrone Sackey, Sonia Joseph, Delroy Thomas, Kenneth Henderson, Frankie Johnson, and the employees of the Virgin Islands Housing Authority Department; as well as other relatives and friends too numerous to mention.
The viewing will begin at 8:30 a.m. and the funeral service will follow at 10:30 a.m., Friday, Feb. 15, at St. Patrick's Catholic Church. Interment will be at Frederiksted Cemetery.