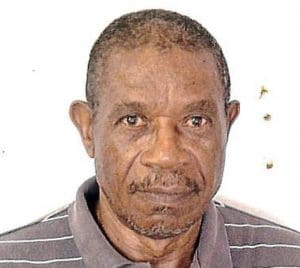 Oswald O. Auguste, also known as "Wire," of Estate New Works died on Saturday, Jan. 19. He was 73 years old.
He is survived by his wife, Mary "Gilna" Auguste; daughters: Leona Daniel, Mary Alexander and Seraphina Auguste; sons: Augustine Auguste and Felix Modeste; grandchildren: Anthony Daniel, Sabrina Daniel, Ellijah Alexander, Isaiah Alexander, Ivor Auguste, Ojani Auguste, Suzannie Modeste and Nathaniel Modeste; sister, Irene Williams; niece, Gina Williams; nephew, Jeffrey Williams; cousins: the Modeste, JnPaul and Theodore families, and others too numerous to mention. special friends: Francis Mitchel, Aaron Gill, Matthew Isidore, Celestine Clovis, and members of the St. Lucia Association and St. Joseph's Choir.
A viewing will take place at 9 a.m. followed by a funeral service at 10 a.m., Friday, Feb. 15, at St. Joseph's Catholic Church. Interment will follow at Kingshill Cemetery.