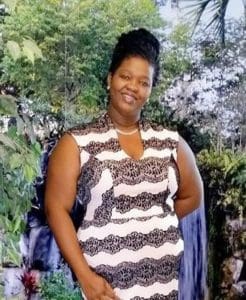 Leoma Cuffy-Jackson, age 45, went to rest peacefully on Feb. 3 at her residence in Estate St. John after a courageous battle with cancer.
Leoma, also known as "Pepi," was born on Aug. 16, 1973, on St. Croix, V.I., to Gee Cuffy and Surrel Cuffy (deceased). She was raised by her Aunt Alexandrine Abraham and Uncle Oliver Abraham (deceased). She was a graduate of the St. Croix Central High School and a certified medical and billing coder by profession, also co-owner of medical billing solutions. Leoma was happily married to her husband Jerome Jackson Jr. for over 20 years.
She is survived by her children: Jamal, Keyra and Teyana Jackson; sisters: Bernadette Abraham, Natasha Lawrence, Shernelle Bernard, Sherry-Ann Richards and Beverly Scotland Lawrence; brothers: Kent Cuffy, Peter and Davidson Abraham, Glen and Bertrand Etienne.
She is also survived by her nieces and nephews: Tamia Challenger, Malik and Avian Cuffy, Ciroya Jeffery, Janelle Coburn, Denella Lawrence, Tasjer, Ashley George Jr., Jazelle Abraham, Peter Abraham Jr., Geraldine and Ellisa Abraham, and Glendora Etienne; great nephews: Adonis Henderson, Deandea George and Jahleem James, mother-in-law, Evangeline Jackson; father-in-law, Jerome Jackson Sr.; and brothers-in-law: Dale, Steve, Franklyn, Darain Evans, Alrick, and Andy Alphone.
More survivors are sisters-in-law: Shirley, Lovern, Esi, Arlene Cindy, Sandy Arlatta and Stephanie; uncles: Antoine Baptiste, Thomas Vigilant, Elvis Jn Baptiste, John Prescott, Robert Prescott, Stanislaus Prescott, Simon Baptiste and Oliver Emmanuel; aunties: Florence Harnanansingh, Mable Cuffy, Justine Matthew, Theresa Jn Baptiste, Justina Baptiste, Ruthine Marie Jn Baptiste, Bernadette Prescott, Anette Redo, Ruthine Polydore and Andrea Lawrence. cousins: Andrenette, Shirley, Rosita, Ester, Lester, Jerome and Erine; and godmother, Ruthine Theodile.
Other survivors include godchildren: Alexis Richards, Adonis, David Christopher, Adriel Thompson and Shemika Durand; cousins/other relatives/friends including the: Abraham, Jackson, Cuffy, Prescott, Theodile, Baptiste, Vigilant, Jn Baptiste, Soto, Redo, Gilbert, Richards, Rawlins, Dariah, Proctor, Matthew, Laurent, Baltimore, Lawrence, Newton, Durand, Auguste, Samuel, Shillingford, Peters, Winston, Moise, Gifford, Merrifield, King, Augustin, Stanislaus, Rogers, Gereau, Matthews, Javovis, Cotto, Boyce, Jacksons, Rawlins, Ford, Williams and Ward families; as well as other family members too numerous to mention.
The viewing will take place at 9 a.m. followed by the funeral service, Wednesday, Feb 20, at Speak the Word Ministries. Interment will be held at Kingshill Cemetery.