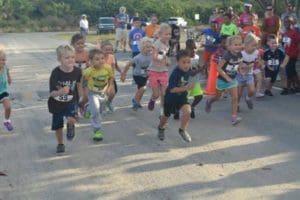 Junior Tri VI will hold a "Silly Sockathlon." Do the DU in your silly socks!
The Junior Duathlon (run/bike/run), for ages 5 to 15, will be held at 8 a.m., Sunday, Feb. 10, at Susana Ocasio Santana Park, Altona Lagoon, Gallow's Bay. The entry fee is $5.
All participants will receive a goody bag and a finisher's ribbon.
Age Groups:
5-6: ¼-mile run; ½-mile bike; ¼-mile run
7-8: ¼-mile run; 1-mile bike; ½ mile run
9-11: 1/2 -mile run;1-mile bike; ½ -mile run
12-15: ½ -mile run; 3-mile bike; 1-mile run
Athletes wearing silly socks will be eligible to win raffle prizes.
Need a bike for the event? Call 513-2707 to reserve one in advance. Helmets and shoes must be worn. A parent or guardian signature is required.
Race day registration will open at 7 a.m. and close at 7:45 a.m.