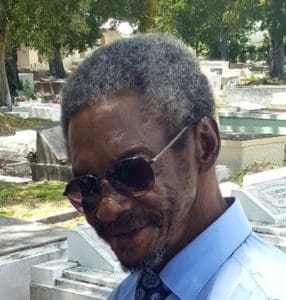 Derek Eugene Watson died on Wednesday, Jan. 9, after a short illness. He was 68 years old.
He was preceded in death by his mother, Leona Brady Watson and father, Curneall Watson.
He is survived by his daughter, Anita Watson; brothers: Neal Watson and Jay Watson; sister, Gail Watson Chiang; grandson, Shane Watson Durand; sister and brother-in-law: Monique Clendinen Watson and Peter Chiang Sr.; and aunts and uncles: Joan Brady Dandridge, Donna Brady, John Brady, Victor Brady, Marjorie Watson Florence, Thomas Watson, Dolores Brady and Sylvia Brady; godchild, Taralyn Dewese Mitchell.
He is also survived by special family and friends: Mary Abraham, Carla LaBega Watson, Annola Watson, June Rodney, Benita Bermudez, Lenore Ferebee, Lisa Douglas, Magnolia Matthias and family, Leelia Padilla and family, Melvin Benjamin and family, Austin Williams and family, Theodore "Teddy" Brow and family, the Hurley family, the Hanley family, Dwayne Fergus and family, Bernard Bennett and family, Egeria Bennett and family, and the Rames family.
Other surviving special family and friends include: Ricardo and Lucy Rodriguez, Gerard Luz James II and family, Marla, Mavis and Marvin Matthew and family, Atty. Martial Webster, Daniel Roman, and the entire Grove Place and Frederiksted communities, spiritual advisor Rev. John Brisco, the Forbes, Richards, Cornelius, Johannes, O'Reilly, Williams, James and Christian families; as well as numerous nieces, nephews, cousins and other family circle relatives and friends too numerous to list.
Special thanks and recognition are extended to the doctors, nurses, staff and service providers of the Frederiksted Health Clinic, the Juan F. Luis Hospital, The Village Partners in Recovery, Kisha Christian and the staff of Neighborhood Pharmacy, Sandy's Concierge Services of PR, Guara Bi Inc. of Caguas, PR, and the Virgin Islands Department of Human Services.
The viewing will begin at 9 a.m. followed by a funeral service at 10 a.m., Thursday, Feb. 7, at St. Joseph's Catholic Church, Estate Mt. Pleasant, Frederiksted. Cremation will follow the service; ashes will be interred at a later date.