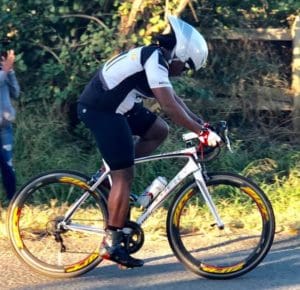 On Sunday, Feb. 3, the Virgin Islands Cycling Federation (VICF) held the East End Time Trial, its first race of the 2019 season. Its calendar of events will include two group rides, three-time trial races, eight road races and one kids' race. The bike races are open to riders of all abilities and include four racing categories (Elite, Expert, Sport, Masters) that ride for varied distances. Helmets are required for all VICF events.
There was fierce wind blowing for the East End Time Trial, which added to the challenge of riding around St. Croix's east end. Twenty-two riders, including five first timers, took on the 13-mile time-trial race, which started and finished in front of Castaways in Solitude. In Sunday's time trial race, also known as the race against the clock, each cyclist was sent off from the starting line at one-minute intervals.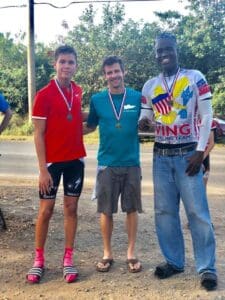 Stephen Swanton claimed the fastest time overall in 35:33. Mikey Dizon-Bumann, age 15, posted the second fastest time in 36:30. David Parris nudged out David Morales for third place by two seconds and crossed the line in 38:11.
The next event on the calendar, the La Grange Circuit race, will be held at 7 a.m., Sunday, Feb. 10. Race-day registration will take place in front of Fort Frederik from 6:15-6:45 a.m. For more information, call 332-6282.
Details for La Grange Circuit Race:
In the La Grange Circuit Race cyclists will start on King Street, head to Hannah's Rest, continue on Queen Mary Highway to Concordia, pass through La Grange and finish at Fort Frederik. Cyclists will complete the circuit 3, 6 or 8 times (13.5 miles, 27 miles or 36 miles).
VIRGIN ISLANDS CYCLING FEDERATION: East End Time Trial
Held 7 a.m., Sunday, Feb. 3, 2019
CYCLIST……………TIME….PLACE/CATEGORY
1. Stephen Swanton 35:33 1st Place Elite
2. Mikey Dizon-Bumann 36:30 2nd Place Elite
3. David Parris 38:11 3rd Place Elite
4. David Morales 38:13 4th Place Elite
5. Jerry Remie 41:34 5th Place Elite
6. John Harper 42:16 1st Place Expert
7. Joey Swanson 42:36 6th Place Elite
8. Chris Dorsey 43:51 1st Place Sport
9. Scott Fricks 45:17 2nd Place Expert
10. Clive Parris 46:20 3rd Place Expert
11. Megan Lambert 46:45 2nd Place Sport
12. Mason Lambert 46:53 3rd Place Sport
13. Kasey Canton 47:28 4th Place Sport
14. Mervin Mills 47:35 4th Place Expert
15. Shari Bashaw 48:04 1st Place Masters
16. Terra McLain-Canton 48:06 5th Place Sport
17. James Meyers 48:19 6th Place Sport
18. Garfield Ferninand 48:38 7th Place Sport
19. Steve Nelson 48:44 2nd Place Masters
20. Elvor Narciss 49:57 8th Place Sport
21. Hubert Abraham 51:42 3rd Place Masters
22. Judy Gario 1:03:11 9th Place Sport