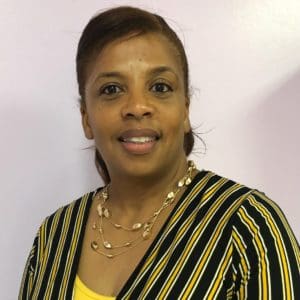 In line with the Juan F. Luis Hospital's mission to provide quality patient care, it is pleased to announce a new addition to the team. "It gives me great pleasure to welcome Ms. Valarie Lee, as the chief nursing officer (CNO) at the Governor Juan F. Luis Hospital," said Dyma Williams, acting CEO. "A native of St. Croix, Ms. Lee comes to us with an exceptionally impressive resume and 38 years of nursing experience — 33 of those years in leadership," Williams said.
After 30 years living on the mainland, Lee said, "I'm thrilled to have returned home [St. Croix] in a position to serve." While a 10th grader at the St. Croix Central High School, Lee was introduced to the field of nursing as a candy striper; however, it wasn't until she volunteered at the Herbert Grigg Home for the Aged that her passion for nursing was solidified.
Now a registered nurse with dual Masters in Health Administration (MHA) and Nursing (MSN), Lee began her nursing career in the Army from which she retired honorably. Her nursing experience includes Emergency Department, Medical-Surgical, Pediatrics, Orthopedics, Neurology, Newborn Nursery, Intensive Care, Neonatal Intensive Care, and Labor and Delivery (L&D).
In conjunction with managing several units, she has also functioned as the Patient Fall Reduction and Pain Reassessment chairperson and is an active member of the American Nurses Association.
In her last assignment, Lee was the director of a 52-bed Medical/ Surgical/Telemetry unit where she was recognized for Zero Hospital Acquired Hospital Infections (HAI's), which includes the reduction in catheter-associated urinary tract infections, bloodstream infections, surgical site infections and pneumonia. Acknowledged for her hand hygiene performance during her tenure, she also successfully initiated bedside reporting and purposeful hourly rounding on the unit.
At every assignment, she implements a shared governance team, which is a model of nursing practice designed to achieve quality care. "Nursing is my passion, and I believe in doing the right thing the first time for all patients. As such, our patients can rely on the JFL hospital staff providing outstanding safe care and giving courtesy and respect at every encounter," Lee said.