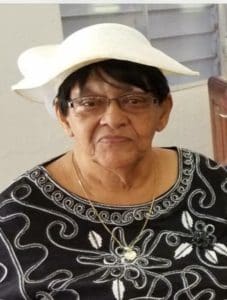 Beatrice Seville, also known as "Sico" or "Mama," of Estate Mary's Fancy died on Jan. 21. She was 75 years old.
She was preceded in death by her husband, Gordon Seville; mother, Victoria Courare; father, Augustin Dujon; grandson, Raheem Anderson; and sisters: Monica Louis and Thelma Dujon.
She is survived by her daughters: Lornah Brown, Margaret Simpkins, Lisa Barnes and Laura Seville-Gordon; sons: Gregory Seville and Gordon Seville Jr; and grandchildren: Rochelle Venner, Rhesa, Richard and Rhael Brown, Shane and Shaun Willet, Shaquille Seville, Ryan Craig, Brittney and Brayden Simpkins, Jahmoni, Armoni, Joshua, Nathalia Seville and Odessa Mathurin, Aalysah and Aaliyah Santos, Rylen Williams, and Mason, Nhemai, Aamir and Ahmad Brown.
She is also survived by sisters: Eldra Dujon, Mary St. Ange and Magilta Dujon; brothers: Matthew Dujon, Thaddeus Dujon, Hayden Dujon, Nicholas Dujon and Darius Dujon; nieces: Victoria, EmerlyAnn, Shatel, Amanda, Nilla, Merle, Veronica and Marlyn; nephews: Johannes Jr, Alban, Eli, Jeaneve, Joseph and Francis; daughter-in-law, Michelle Seville; sons-in-law: Floyd Brown, Rodney Simpkins, Richard Barnes and Michael Gordon; brother-in-law, Johannes St. Ange; and godchild, Marlyn Popo.
Other survivors include special friends: Nadine Nicks and family, the Obieus family, the Griffith family, Paul Sexius and family, Michael Dujon and family, the Courare family, Cousin Merle and family, Clara Nock and family, Steve Dujon and family, Mrs. Kate and family, Eleanor Lander, Members of the Central, Christiansted and Frederiksted Church of the Nazarene, Agatha Luisy "Mena," Virginia Simon and family, Reverend Anthony DeVlugt and family, Stephanie Nielsen and family, Christine Gaskins and family; as well as other relatives and friends too numerous to mention.
The family requests that those in attendance wear festive colors.
There will be a viewing held at 10 a.m. followed by a funeral service at 11 a.m., Tuesday, Feb. 12, at the Central Church of Nazarene. Interment will be at Kingshill Cemetery.