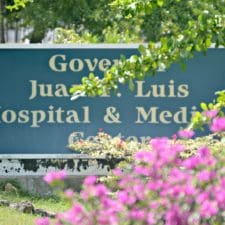 Gov. Juan F. Luis Hospital and Medical Center (JFL) maintains its ongoing commitment to providing quality health care to St. Croix. One of its strategic initiatives is to establish collaboration with other community and global partners. As such, JFL has announced its most recent partnership with the Hackensack University Medical Center's (HUMC) Emergency Medicine Residency Program.
JFL remains dedicated to providing excellent quality health care. The intent of the partnership is to engage senior level residents from Hackensack University to provide additional clinical support with the dedicated JFL Emergency Team.
Dr. Herman Morchel M.D, the Hackensack physician liaison, is a board-certified emergency medicine physician. Morchel supported JFL during the post Hurricane Maria response with the procurement of operating room (OR) units.
In line with JFL's mission is to drive improvement in the health of those it serves, while exemplifying compassion and respect, JFL is honored to welcome Dr. Morchel and the team to JFL. JFL extends a special "thank you" to Morchel and the Hackensack residency program for this opportunity to partner and collaborate.
JFL also thanks Elizabeth Armstrong of the Buccaneer Resort for being a supportive community partner in health care by providing hotel accommodations for the HUMC colleagues.