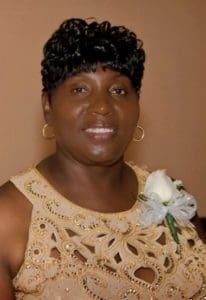 Nelvine Charles, also known as "Nelrine" or "Nel," of Estate Diamond Ruby died on Wednesday, Jan. 2. She was 68 years old.
She was preceded in death by her parents: Centilia and Hubert Anthony; and brothers: Stedman Henry and Calvin Anthony.
She is survived by her spouse: Simon (Kearly) Charles; daughters: Cassandra Charles, Gale Charles, Julia Charles, Juliet Charles and Lavern Charles-Edward; son, Dion Anthony; grandchildren: Simone Evans, Jayden Navarro, Amaya Edward and Dylan Hall; adopted children: Dendre Martin, Malinda Vigilant-Messer, Debra Herbert, Beverley Hines, Reynaldo Bennett and Calvin Herbert; and adopted grandchildren: Aliya and Jaylen Messer, Brianna George, Akeido and Reynaldo Bennett Jr.
She is also survived by sisters: Celestine Williams, Mary Amelia Richards, Magnetta Simon, Hilary Scotland and Joyce Anthony; brothers: Joseph Anthony, Rolston Anthony and Vincent Anthony; and nieces: Dr. Rosalie Richards, Denise and Cecilia Henry, Janice Williams, Aba Scotland, Lynn Anthony, Blondel Anthony, Andrea, Joyann and Cathy-Ann Anthony, Ingrid Gordon, Carmela and Charlyn Cuffy, Elta, Charise, Lynn and Deborah Charles.
More survivors include nephews: Andre, Franklin, Hubert and VanRoy Simon, Dr. Steve Richards, Dr. Tony Richards, Pete Richards, Euton, Dale and Tyron Henry, Cliff Williams, Kyle Scotland, Derk, Pete and Richard Anthony, Ethan and Dwayne Anthony, Joseph, Darion, Ninian and Lynton Charles, Philbert Jr. (Freddy) and Ken Charles; sons-in-law: Isaac Edward, William Benjamin and Oral Gordon; and brothers-in-law: Philbert Charles Sr., Kearl Charles, Nelson Charles, Clarence Scotland, Ellsworth Simon and Cuthbert Cuffy.
Other survivors include sisters-in-law: Isabela Charles, Leotha Cuffy, Mary Charles, Silma Anthony, Alice Anthony, Viola Anthony, Winsome Anthony and Irma Charles; close family and friends: Darrel Nesbitt, Lucy Jacobs, Annette and Val Brown, Glendine McNamara, Hilarine Williams, Cecil Smith, Juliet Henry, Daisy Herbert, Mr. Thomas, Gwenneth Prince, Ms. Brown, Mr. Greene (St. Thomas), Edwin Simon and family, Netta, Roy, Dean Christmas, Egbert Hall and family, Istevia Beharry, Lynette Sierra, Lucyanna and Maurice Edward, Mary and Thomas Marquis, Agatha Cazaubon and family, Alison Peters and family, Frances and Hesline Matthew, Priscilla Browne (Aunty Minty) and family, and the Harris family; as well as other relatives and friends too numerous to mention.
The viewing will begin at 9 a.m. followed by a funeral service at 10 a.m., Friday, Jan. 18, at Calvary Baptist Church. Interment will be at Kingshill Cemetery.