The Virgin Islands Pace Runners (V.I.Pace Runners), which annually conducts over 25 road races, cross-country, and track & field events on St. Croix, closed out the year with the annual Cane Bay 5-Mile and kicked off 2019 with the running of the 32nd Children Race, an 800- meter run down King Street along the Crucian Christmas Festival parade route for boys and girls 13 and under. The race kicks off the Crucian Christmas Festival Children's Parade and the 37th Annual 3Kings Mile that kicks off the adult parade.
According to Wallace Williams, founder of the V.I.Pace Runners and originator of these events, "V.I. Pace is celebrating its 40th anniversary, and these two events exemplify the goal and mission of the movement. We see older runners come of age like Billy Bohlke, who has been running these events since he was a kid. Last week he won the Cane Bay 5-Mile at the age of 40 and averaged 6 minutes per mile…not too far off the times he ran as an outstanding middle-distance runner at LSU and at previous races at Cane Bay.
"Billy, a pilot with the Puerto Rico Air Force National Guard, also is now a third-generation pilot and the CEO of Bohlke International Airways… these events have seen records held by outstanding V.I. runners like Adrian Durant V.I. Olympian and CARIFTA medal winner in the 200m in the same race with gold medal winner Husain Bolt.
"Adrian is now head track and field coach at Cornell University. As a child he ran for Hounds and Foxes Track Club and held the Children Race record for years. Lisha Hamilton V.I. Marathon record holder held the 3Kings Mile record for years and now an elite long-distance coach. Ralix Clovis, Marlon Williams, George Jules, Juan Robles, Dennis Smith among others also have seen great performances in the 3Kings Mile.
"Sheldon Williams running for V.I.Pace, son of Marlon, won the first Children Race 32 years ago, he is now a practicing chiropractor; Ian Bass was in that race; he is an engineer for Benton Construction of St. Croix and Michael Springer, local politician and businessman was also in the race.
"Some of my best times were run on this Frederiksted course back in the 80s and 90s. One I remember well is finishing second behind Ralix and just holding off Keith Smith to the finish. Keith is the father of Malique, Mikaela and Michelle and the husband of Mireille and NCAA National Champion in the 3000m. She finished third for female in the race today."
Over the past few years, the Smith family of the St. Croix Track Club has dominated the two festival races. Malique, now a senior at the University of Arkansas Pine Bluff, has dominated both festival races as a child in the Children Race and through junior and college years in the 3Kings Mile. His sister, Mikaela, who is a V.I. Youth Olympian, also dominated both, as was the case this weekend with youngest sister Michele, who won the Children Race with a time of 2:10 — a time that shocked everyone who witnessed it. In addition, she won the race outright as the first runner across the line. Her sister had tied the record of 2:21 by Evelize Gomez.
Finishers 13 and under: Michelle Smith, St. Croix Track Club first 2:10; Akira Joseph SCTC second 2:25; Amiaya Eddy Rams 2:38; Lauren Jones SCTC 3:04; and Kirsten Jones SCTC 3:10.
Finishers Under 10: Faith Eagimon SCTC First 3:11; Jimiah Jn Baptiste Rams second 3:20; Katelyn Jones SCTC third 3:31; Ella Chewning Good Hope Country Day fourth 3:42; Sara Jones SCTC fifth 3:53; Olivia Jones SCTC first under 6 5:14; and Grace Chewning GHCD second 8:36.
Antonio Cupid Rams first under 6 boys 4:10; Kaleo Scott SCTC second 4:32.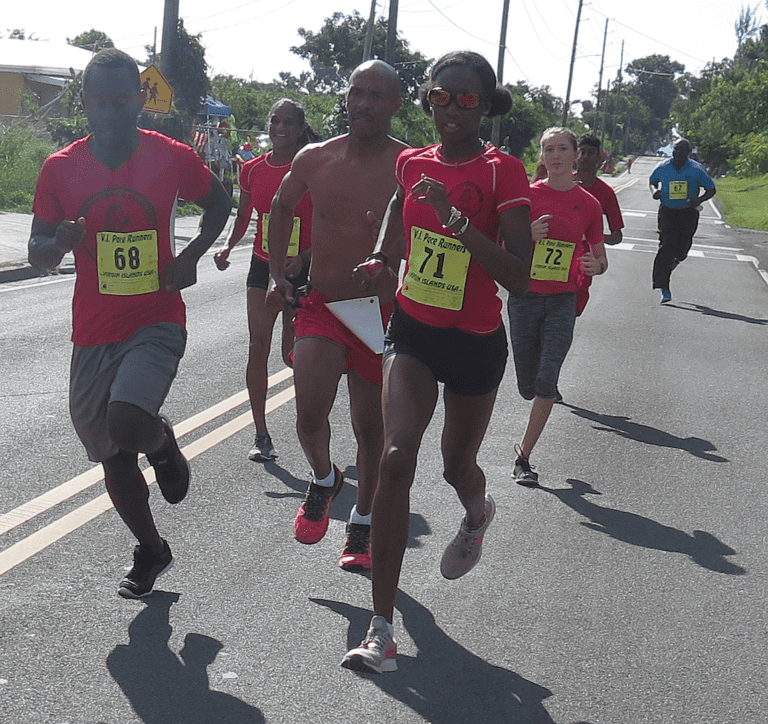 Mikaela of the St. Croix Track Club continued her dominance of St. Croix running. In October she represented the Virgin Islands in the Youth Olympic Games in Buenos Aires, Argentina; she ran cross-country as a freshman at Austin Peay University and is on break for the indoor season.
She matched her little sister by crossing the finish line first in a road race as she won the 37th 3Kings Mile with a time of 5:06; Randall Nielsen of Superior Court was second and the first male in 5:10; Ian Cuffy SCTC was second male in 5:55; Alex Joseph SCTC third male 5:57; Mireille Smith SCTC second female; Rory Ramsdell Jolly Roger TC third female 6:34; Willie Lewis fourth male 11:58.