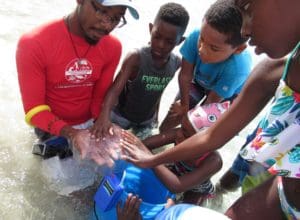 The V.I. Marine Advisory Service (VIMAS), a part of the University of the Virgin Islands, launched a free swimming program on St. Thomas last fall. It hopes to start one on St. Croix with financial help from the Community Foundation of the Virgin Islands (CFVI).
It will rely on help from students and swimming instructors to ensure that classes can be provided.
This swimming program on St. Thomas is held for six weeks and is offered twice each year. It is open to students in grades 1-12 or ages 4 and up. The program features three levels:
Beginner: for those students who have little to no prior experience swimming;
Intermediate: for students who are somewhat comfortable in the water and will learn the basics of snorkeling; and
Advanced: for students that are very comfortable in the water and will learn more advanced skills with snorkeling and an introduction to scuba diving.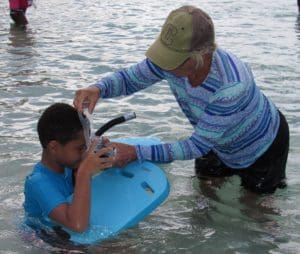 The classes take place for six weeks on Brewers Bay and are currently only offered on St. Thomas, although the team is working to launch the program on St. Croix after it works out any kinks.
The second six-week session will begin Feb. 2 and continue until March 9. The first six-week session was held in November/December.
According to VIMAS, the program is instrumental in teaching Virgin Island's youth not only how to swim but why they should value the oceans. The Legislature mandated V.I. public schools teach swimming, but it has not actually been taught consistently.
"We see this program as a means to create a culture of environmental stewards where youth appreciate our environment and take care of the natural resources we have here," said Jarvon Stout of the V.I. Experimental Program to Stimulate Competitive Research.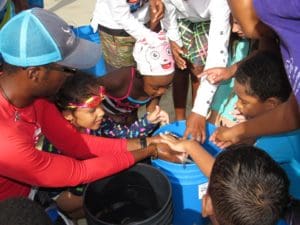 "We are aware that other swimming programs exist on island but what separates our program from others is that we focus on a variety of other topics besides swimming. Ultimately, our goal is to provide enough hands-on experiences (swimming, shoreline treks, scuba lessons, kayaking and animal identification) that will hopefully broaden participation in the geosciences (which includes marine science)," said Howard Forbes Jr., VIMAS St. Thomas coordinator.