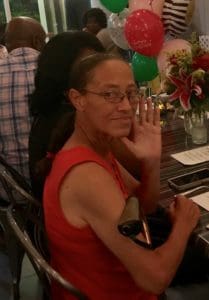 Yvonne Martinez, also known as "Bonny," died on Dec. 15, 2018.
She was preceded in death by her mother, Maria I. Santiago.
She is survived by her father, Juan M. Martinez; stepmother, Rosa Martinez; son, Juan Martinez; brothers: Edelmiro Sanes Jr., Alex Martinez and Juan A. Martinez; sisters: Carmen Sanes, Gloria Sanes and Jenny Perry; and other relatives and friends too numerous to mention.
Please dress casual in honor of Bonny who loved her jeans and T-shirts.
A viewing will be held from 4-5 p.m., Friday, Jan. 11, 2019, at Divine Funeral Services Chapel, 129 Peter's Rest.
A second viewing will take place at 9 a.m. followed by a funeral service at 10 a.m., Saturday, Jan. 12, at Victorious Believers Ministries, 15 Peter's Rest. There will not be an interment.