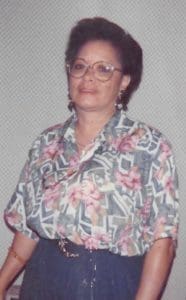 Eva Schuster Felix died on Dec. 26, 2018.
She was preceded in death by her mother, Emily Adams; father, Henry Schuster; and brothers: Lauritz and Ernest Schuster.
She is survived by her spouse: Rogelio Felix; daughter, Brenda Felix; sisters: Louise Lamb, Ellen Schuster and Claudette Benjamin; brothers: Albert, Franklin Henry, Rexford and Allan Schuster; aunt, Renee Barnes; nieces and nephews: too numerous to mention; cousins: too numerous to mention; special friends: Lucy Bough and Linda Burton, Olive Bedminister, Lauren Megahy, Teresa Beck, Agnes Carr, the St. Ann's Parish family, and the Department of Health at Charles Hardwood; as well as other relatives and friends too numerous to mention.
A Memorial Service will be held at 10 a.m., Thursday, Jan. 17, 2019, at St. Ann's Catholic Church, Barron Spot.