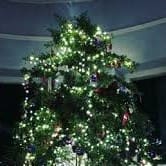 Dear Source:
Open letter to Department of Public Safety:
According to a radio show call, the History, Culture & Tradition Foundation suffered a serious loss Friday evening. Three hundred (300) holiday bulbs were unscrewed and stolen off their Christmas tree in Buddhoe Park, Frederiksted.
The incident demonstrates that police patrol needs improvement in the town of Frederiksted. The area with the Christmas tree is on the eastern section of Buddhoe Park, directly visible to King Street. To unscrew three (300) bulbs takes time, and the blackening out of the lights on the tree should have been noticeable.
Public safety must improve security service in the town of Frederiksted with better and more adequate police patrol.
Thank you.
Mary L. Moorhead, activist