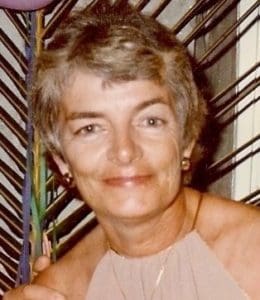 Barbara Hultman Beach, age 84, died on May 25 at Seacoast Nursing and Rehabilitation Center, Gloucester, Mass.
She was predeceased by her daughter-in-law, Renee H. Beach.
Barbara, daughter of the late Gustaf and Ethel (Johnson) Hultman, was born in Bridgeport, Conn., Oct. 27, 1933, and was the wife of the late Edward N. Beach. She is survived by her three children: Edward H. Beach (Susan K.) of Frederiksted, St. Croix, Pamela B. Michael of McDonough, Ga., and Susan B. Dick (Robert) of Ipswich, Mass.; and sister, Claire H. Gannon of Milford, Conn.
She leaves behind five loving grandchildren: Susan Zinkovich (Charlie), Amanda Beach, Dana Capps (Travis), and Robert and David Dick; three great-grandchildren: Kaylei, Lily and John; one niece; and several nephews.
A celebration of life will be held at 3 p.m. at Kingshill Cemetery on Friday, Dec. 21.
In lieu of flowers, please make a donation to Good Hope Country Day School, 51 Estate Concordia, Kingshill, St. Croix 00820 or Lutheran Social Services, 516B Hospital Street, Frederiksted, VI 00840.