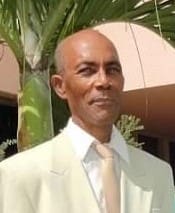 Hilroy R. Richards died on Dec. 2.
He is survived by his spouse, Helena Ophelia Walters; daughter, Karen Guzman; son, Oral Richards; grandchildren: Kai Guzman, Kai-Lee Guzman and Kalaya Guzman; sisters: Cassandra Looby, Cherielle Looby, Gloria Richards and Brenda Richards; great-grandchildren: Rhylee Mitchell and Melanie Guzman; nieces: Moesha Martin and Monet Martin; cousin, Evan Phillip; special friends: Edred Stanley, Nathaniel Williams and Ivan Sargeant; and other relatives and friends too numerous to mention.
There will be a viewing held at 9 a.m. followed by a funeral service at 10 a.m., Thursday, Dec. 13, at Central Seventh-day Adventist Church, Plessen. Interment will be at Kingshill Cemetery.