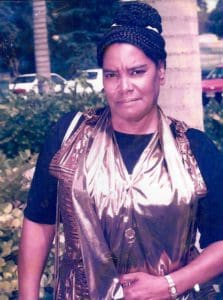 Helena Cadette died on Nov. 27.
She is survived by her spouse, Peter R. Cadette; daughters: Michelina Simon and Marie Cadette; sons: Joseph "Jojo" Cadette, Vitalis "Percy" Cadette and Jean I. Cadette; grandchildren: Keith Simon Jr., Yurica Simon, Shunda Simon, Michkie Simon, Eachan Simon, Kimetha Barnes, Marques Cadette, Robert Cadette, Joseph M. Cadette, Tammy Baker, Jamale Griffin, Careen Griffin, Atalia Griffin, Endisha Benjamin, Shardae and Jeanna; and 25 great-grandchildren.
She is also survived by daughters-in-law: Bernadette Scott Cadette, Stephanie Cadette and Avril Henry; son-in-law, Keith Simon; sisters: Marie Dominique (England), Camilla Sylvester (St. Lucia), Marguerite Linda Gates (Canada), Mary Modeste (St. Croix) and Paula Abraham (St. Lucia); nieces: Sandy, Merlinda, Debbie and Claire; nephews: Brian, Shauncey and Kennedy; special friends: Manoah Browne, Aloysius Jones, Gilbert Encarnacion, Calquohoun people and Ninja P.;  as well as other relatives and friends too numerous to mention.
A viewing will be held from 4-6 p.m., Friday, Dec. 14, at Divine Funeral Services Chapel, 129 Peter's Rest.
A second viewing will take place at 10 a.m. followed by a funeral service at 11 a.m., Sunday, Dec. 16, at Central Seventh-day Adventist Church, Plessen. Interment will be at Kingshill Cemetery.