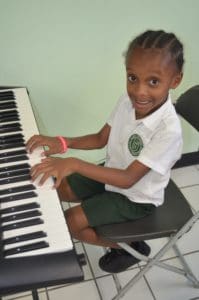 G-Clef Music Academy has received repeated requests to expand its music school to the big island of St. Croix. In February 2019, G-Clef's dream will come true with its new location at Sunny Isle Shopping Center, unit 9, next to Rainbow.
The expansion is being kicked off at Sunny Isle's Christmas Tree Lighting at 5:30 p.m., Saturday, Dec. 1. G-Clef's academy director and new office manager will be at the event to register new students and give more information about G-Clef Academy's Grand Opening and free raffle for one month of free music lessons.
Academy Director James H. Gumbs Jr. said, "We have been providing music education at G-Clef Music Academy for 10 years on St. Thomas. We're excited to expand to St. Croix. So many parents are very interested in our services, plus we have a dynamic team to provide music lessons in the most perfect location."
The new location, in Sunny Isle, is next to the mall's amphitheater and playground area. It's also the key site for major events, like their annual Christmas Tree Lighting. Just as G-Clef's Mandela Circle location is centrally-located on St. Thomas, Sunny Isle is in the center of St. Croix, boasting numerous shops, restaurants, banks, a movie theater and more.
Jan Holthus, G-Clef's new office manager, will be running the new location and teaching piano and voice. She has spent her life in music. Jan holds a bachelor's degree in music education from Southern Illinois University and a master's degree in choral conducting from the Conservatory of Music at the University of Missouri-Kansas City.
She has over 20 years of experience teaching music in the public schools in Kansas and Missouri, and she is the former director of music at her church. She has also been a hired singer in the St. Louis Symphony Chorus and the Kansas City Symphony Chorus.
The new St. Croix music school will have eight teaching rooms, a lobby, and plenty of parking. The academy will be providing private music lessons in piano, guitar, drums and singing for children and adults. G-Clef welcomes Crucians of all ages to take advantage of the new available music lesson time slots.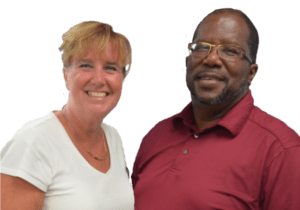 Registration is going on now, so students will be able to experience their music lessons in February. Attendees of the Sunny Isle Christmas Tree Lighting are encouraged to enter a free raffle for a chance to win a Golden Ticket. The ticket winner receives one month of free private music lessons. Please see Jan or James to enter the free drawing that evening.
G-Clef Music Academy's Grand Opening and Ribbon Cutting is slated for Feb. 5, 2019. Interested people can register now or get more information by calling 344-6449 or visiting www.stcroixmusicacademy.com