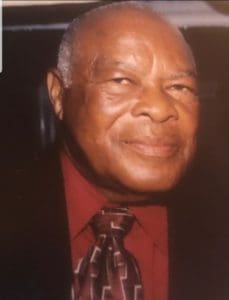 Father David Winston Henry, also known as "Cradford" or "Craddie," of Little Princess Hill, Christiansted, St. Croix, died on Thursday, Nov. 1.
He was preceded in death by his father, William Aaron Henry; mother, Alicia Susanna Otto; sisters: Rubel Henry-Ladoo, Norma Henry-Flax, Vionie Henry and Irene Henry-Romeo; and brothers: Alwyn Browne, James Henry, Carlton Henry and Carroll Henry.
He is survived by his spouse, Sonia Spencer Henry; daughter, Maria Henry; son, Michael Henry; stepdaughter, Pearl Parrilla; stepson, Pedro Parrilla; grandchildren: Taylor and Chesney Henry; step-grandchildren: Ryneese James and Nia Fabio; sister, Glenn Browne-Challenger; brother, Aaron Elias Henry; 34 nieces; 41 nephews; 64 great nieces and nephews; daughter-in-law, Rhonda Williams-Henry Esq.; sisters-in-law: Joycelyn Henry and Jestina Henry; brother-in-law, Anderson "Andy" Flax (Virgin Gorda); and godchild, Monique Walcott.
He is also survived by special friends: Albert and Maria Schuster; Mavis Henessey, Carmen M. Mills, Merill and Olive Walcott, Genevieve Edney, Emelda Thomas, Christiansted High School Class of 1966, Mr. and Mrs. Treasure, Luis Rivera, Rev. Richard and Mary Abbott, Cannon Samuel Knight, Yvonne and Donald Liburd, Vincenta Pilgrim, Dr. Sir Prince Ramsey(Antigua), Dr. and Mrs. Hayden Thomas (Antigua), Bishop Orland and Mrs. Lindsay (Anitgua), Kelly Ramsey, Patricia Tramberg, Sylvia Archibald, Rose Jacobs, The Right Reverend Ambrose Gomes – Bishop of the Episcopal Diocese of the Virgin Islands.
Other survivors include cousins and other relatives: Valerie Weekes, Paulette, Pauline, Percival, Phyllis, Ahkela and Vidamae Edwards; the Henrys, Ottos and Brownes of Willikies; the St. Stephen's Anglican Church, Antigua; St. Paul's, St. Peter's and Holy Cross Episcopal Churches on St. Croix; All Episcopal churches of St. Thomas, USVI and the British Virgin Islands.
Extra special thanks to the doctors and nurses at JFL Hospital, Continuum Care and VI Kidney Center, not forgetting other family and friends too numerous to mention.
Tributes will begin at 9 a.m. followed by funeral services at 10 a.m., Monday, Nov. 12, at St. Paul's Episcopal Church in Frederiksted, St. Croix. Interment will be in St. Paul's Church.