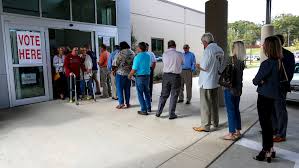 The following are the second poll results as of Oct. 30 from VI Tech Stack, a UVI RTPark tax break recipient company, in collaboration with the University of the Virgin Islands Institute for Leadership and Organizational Effectiveness.
The poll was conducted by V.I. Tech Stack and the UVI Institute for Leadership and Organizational Effectiveness. John Yob of V.I. Tech Stack presented and explained the poll and its results. Yob is a St. John transplant from Michigan who runs a company receiving Economic Development Commission tax breaks. He has a long history of activity in the Republican Party in Michigan and worked on multiple campaigns. Yob is author of: "Chaos: The Outsider's Guide to a Contested Republican National Convention" which analyzes the ins and outs of the formal convention rules and how a candidate could use those processes in the context of the 2016 presidential election.
Traditionally, every election season, UVI facilitates multiple electoral polls up until the general election. This year, ILOE partnered with VI Tech Stack, which conducted two polls. These polls were administered to random persons in the territory via online and phone interviews and interactive automated phone calls. The information was then compiled, providing the electoral poll results for the gubernatorial and senatorial races.
For more information, contact Dannica Thomas, director of ILOE, at iloe@uvi.edu.
UVI Institute for Leadership and Organizational Effectiveness (ILOE)
United States Virgin Islands General Election Poll Results
Conducted: Oct. 27 – 30, 2018
Number of Respondents: 800 MoE: ±3.46 percent
Q. Are you registered to vote?
Yes 100 percent
Q. Thinking ahead, how likely are you to vote in the general election?
Certain 86 percent
Likely 10 percent
50/50 chance 4 percent
Total 100 percent
Q. If the election for governor of the United States Virgin Islands were held today, would you support Kenneth E. Mapp, Adlah "Foncie" Donastorg, Soraya Diase Coffelt, Janette Millin Young, Albert Bryan, Moleto A. Smith, or Warren Mosler?
Albert Bryan 31 percent
Kenneth E. Mapp 25 percent
Adlah "Foncie" Donastorg 11 percent
Warren Mosler 7 percent
Soraya Diase Coffelt 5 percent
Janette Millin Young 2 percent
Moleto A. Smith 1 percent
Undecided 18 perecent
Total 100 percent