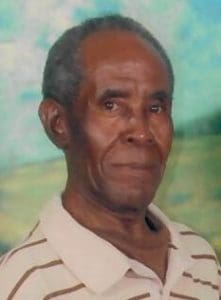 Otto B. Jean died on Oct. 17.
He survived by his spouse, Tulip Jean; daughters: Monique and Marisa Jean; sons: Corwin, Andre (Chiquita), Larry and Kevin Jean; brothers: Cyril and George Clement; sister, Marie Jean; grandchildren: Tyra Webster, Maurice Holland, Vanessa, Corwin and Jean-Pierre Giering (Germany), J'niyah, Janekia, Janella, Layla, Jazlyn Jean, Jahliya and Janay Petersen, and Zaiden Harris (Virginia); sisters-in-law: Christiana Stevens and family (Antigua), Joyclyn Henry and family (Maryland); and brother-in-law, Rupert Stevens and family (Antigua).
He is also survived by special friends: Paul Francis, Nigel Nicholas, Elizabeth Carroll and family, Hilary Herman and family, Madge Pierre, Agatha Mc Farland (St. Lucia), Donald JnBaptiste, Sandra Weeks and family, Vera JnBaptiste, Laba and the boys (New York), Frank Jeremiah, Khan Pope, Fostina and Roosevelt Thomas and family, Lorna George and family, Catherine Charles and family, Bobot, Elsa and Cyril Williams (Texas), Grace and Johnty Joseph, Paul Joseph, Peter and Porsha, Michael Dubois, Alfred Letang and family, Eric Hippolyte, Lucy Fletcher and family, the Simmons family (Florida), Clement Nelson, Loraine Williams and family, and Roach Auto Service Inc.; as well as other families and friends too numerous to mention.
There will be a viewing from 3-5 p.m., Tuesday, Nov. 6, at Divine Funeral Services Chapel, 129 Peter's Rest, Christiansted, St. Croix. There will be a second viewing held at 9:30 a.m. followed by a funeral service at 10:30 a.m., Wednesday, Nov. 7, at St. Patrick Catholic Church, 416 Custom House Street, Frederiksted. Interment will be at Kingshill Cemetery.