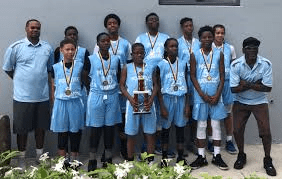 In honor of Breast Cancer Awareness Month, the players, parents and other family members of the Positive Guidance Youth Club participated in a fundraising activity to benefit the Yvonne Ashley Galiber (YAG) Breast Cancer Foundation Inc.
The Positive Guidance Youth Club is a youth-based certified 501(c)(3) non-profit organization that provides a safe, fun, healthy and competitive environment for youths between the ages of four to 18 years within the St Croix community. The youth club will donate $500 of the proceeds from the activity to YAG Breast Cancer Foundation Inc.
The club participated in a water sales activity on Oct. 27 to raise money and awareness. Participants wore pink shirts, which represents the international symbol of breast cancer awareness, to express moral support for women with breast cancer.
The YAG Foundation (YAGF) was founded in 2007 with its mission to educate the community about the risk factors for breast cancer in the Virgin Islands and to advocate on behalf of women and men touched by the disease. YAGF also provides financial assistance to the medically underserved while educating the community about breast cancer.
For more information, contact Jose Gonzalez at 277-6451.