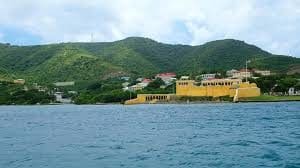 The Christiansted National Historic Site, one of St. Croix's three National Park Service (NPS) units, was awarded funding to repaint the road striping and traffic markings on Hospital Street, King Street, Company Street and the loop road in front of the Scale House and King Christian Hotel.
The project will improve the traffic markings, curbs, crosswalks and parking lanes in the park. The project goal is to provide an improved level of visitor service and increase safety for traffic and pedestrians throughout the park and the neighboring Christiansted properties.
The NPS anticipates no full closures of traffic but may be limited to one lane and temporary lane changes. Safety devices and flaggers will be present on the jobsite. All work is scheduled to be completed between Oct. 15 and Nov. 15.
Some street-side parking will be limited during re-painting, and temporary lane shifts may occur. Work will be performed on site from 7:30 a.m. to 4 p.m., Monday through Friday. No weekend work is anticipated.
For additional information, contact Dan Ritter; facilities division chief, at 773-1460, ext.221. www.nps.gov/CHRI