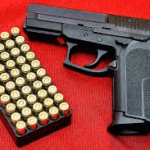 Dear Source:
Isn't every single American citizen guaranteed the rights to bear arms under the United States Constitution? So why is it that we as Virgin Islanders are not allowed to bear arms? Why is it illegal in the U.S. Virgin Islands to possess a firearm without a license when the U.S. Constitution guarantees us the right so much so that U.S. citizens on the mainland can purchase a firearm at a (pawn) shop with just an I.D.?
According to these laws guaranteed us, it should only be illegal in the U.S. Virgin Islands to carry and/or conceal a weapon without a license or to possess a firearm with an obliterated serial number. According to these rights, every American is guaranteed the right to possess a firearm in their homes! I should be able to, as an American citizen that can buy a firearm on the U.S. mainland with just an I.d., to order for me online an assault rifle and boxes of ammunition if I so desire, in the U.S. Virgin Islands, so long as I have a valid I.D.
I hope the gods that formed, separated, and created the laws of the Virgin Islands from the darkness during creation, can come down from their lofty abodes and address this gross violation of our Constitutional rights, including exonerating those who have been incarcerated for possession of a firearm, especially if they were carrying one to protect their very lives from oppressors, whether in or out of government.
Yahmeses Rhymer, Christiansted, St. Croix