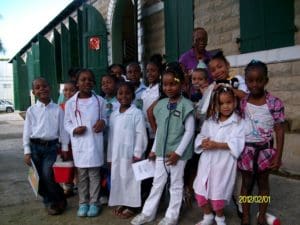 Catholic Schools of the Virgin Islands — Sts. Peter and Paul on St. Thomas, St. Joseph High School on St. Thomas, and St. Mary's and St. Patrick's on St. Croix — have received a substantial donation from the Marion and John E. Anderson Foundation along with local subsidiaries Bellows International, West Indies Company, Dorchester Insurance Company, TOPA Insurance Services, TOPA Properties and Leeward Islands Management Company to assist with tuition assistance.
Father Eduardo Ortiz-Santiago said, "After hurricanes Irma and Maria, we enrolled numerous students, mainly from public schools and some from others so they would not lose class time for the year 2017-2018. Most of these families could not pay much or any of the tuition. Now a majority of these students have asked to stay in our school. These funds will assist those students in need and help us ensure that we continue our mission of serving the less fortunate and underserved in the Virgin Islands community.".
Theresa Fabela, president of Dorchester Insurance Company, said "We are very thankful to Catholic Charities and the Catholic Schools for all the services they have provided on all three islands in the wake of Irma and Maria."
Formed in Catholic tradition, the mission of the Catholic Schools is to foster the spiritual, intellectual, and personal development of young people as committed disciples of Christ; it is to ensure that the students demonstrate mastery of defined skills and knowledge that will empower them to be creative, productive, responsible, critical thinking, self-directed, life-long learners who respect and appreciate diversity with the influence of moral reasoning.