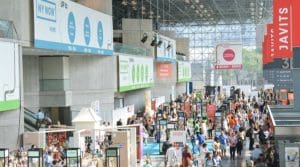 The USVI Economic Development Authority delegation of USVI small-manufacturing businesses traveled to the NY NOW Summer 2018 trade show.
With design-driven products made in the U.S. Virgin Islands, 11 small-manufacturing businesses participated in the NY NOW Summer 2018 trade show in New York City. Showcasing displays of metal-embossed wall art, textiles, paintings, photography, teas and glassware, tropical fragrances captured in body care products and hand-made candles, these entrepreneurs represented the V.I. at the annual trade show from Aug. 12-15, 2018 at the Jacob K. Javits Convention Center on 655 West 34th Street.
Through the State Trade Expansion Program (STEP), a federal export program made possible by a grant from the U.S. Small Business Administration (US-SBA), the U.S. Virgin Islands Economic Development Authority (USVIEDA) sponsored and led this delegation of entrepreneurs who are based on St. Thomas and St. Croix. These small manufacturers had the opportunity to promote their home and lifestyle products to among 20,000 buyers from across 66 countries. At this tradeshow, the goal of these small manufacturers was to network with potential buyers to increase their sales through export-related activities.
"At NY NOW Summer 2018, after about a year since two major hurricanes devastated our territory, the entrepreneurial spirit of the USVI resonated throughout Booth No. 6308 during this trade show," said Nadine Marchena Kean, director of the Enterprise Zone Commission and the USVI STEP coordinator.
"This was a tremendous opportunity for these entrepreneurs to gain exposure and business growth through export-related activities, and for the USVI to show the world that it is definitely open for business. Some of these business owners are already receiving product orders," said Kean.
STEP is authorized by the Small Business Jobs Act of 2010 through the US-SBA). STEP in the USVI is administered by the USVIEDA. According to the U.S. Virgin Islands Small Business Profile from the U.S. Small Business Administration Office of Advocacy, 157 companies exported goods in the USVI in 2013. Among these, 114 (72.6 percent) were small firms[1].
Set against the booth's overall white backdrop, USVI-made products captured the attention of trade show attendees as the U.S. Virgin Islands' story was told with visual imagery of Caribbean-inspired themes through hand-made metal-embossed art, oil and water-colored paintings, textiles, glassware and photography.
Other small-manufacturing entrepreneurs allowed potential buyers to experience the USVI through touch and various scents with USVI-made tea, soaps, hair and body products and hand-made candles. Some of these products were created with earth-based ingredients ranging from lemongrass, papaya and coconut milk to aloe vera, charcoal, coffee, lavender and castor oil. Other natural ingredients included local beeswax and honey.
On the final full day of the trade show, the USVIEDA held a cocktail mixer featuring Cruzan Rum from St. Croix, which led to over 100 visitors to the booth within an hour.
The following USVI small-manufacturing entrepreneurs attended NY NOW Summer 2018:
No. Representative: Business Name: USVI-Manufactured Products
1. Jason Budsan: Caribbean Herbals: Candles
2. Christa-Ann Molloy: Christa's Art Gallery: Prints on bath and home accessories
3. Ramone Reid: Cultured Naturals Body Care: Organic hair and body products
4. Deborah Sun: Debbie Sun Art Studio: Art printed on fabrics and other gifts
5. Clemenceau Perry: DTC Recycling: d/b/a Perry's Glass: Glassware items (Dinnerware)
6. Leonard Smith: Home Grown Farm: Tea
7. Aquannette Chinnery: JDNatlady's Creations LLC: Soaps and hair products
8. Peter Gonzalez: Pita Art Studio: Metal-embossed wall hangings
9. Toni Downs: Queen CariBEE: Soaps and honey
10. Linda Bailey: Harmony Bath & Body: Soaps and scrubs
11. Diego Kean: Studio VI Photography: Postcards, wall decals, decorative wall/window paper wraps of V.I. scenes, etc.
"I will be forever thankful for this opportunity. NY NOW is a game changer for any business," said Aquannette Chinnery of JDNatlady Creations LLC. "We represented the Virgin Islands as 11 brands coming together in one booth. Thank you USVIEDA, NY NOW, the U.S. Small Business Administration's STEP program; and thanks to Nadine Marchena-Kean and her staff," said Chinnery.
To see photographs and videos of the USVI's participation at NY NOW Summer 2018 on Aug. 12, 13 and 15, visit the USVIEDA Facebook page at https://www.facebook.com/usvieda/ or insert #usviatnynow into the Facebook search box.
For more information, contact Nadine Marchena Kean at 714-1700, ext. no. 256; or send an email to [email protected].