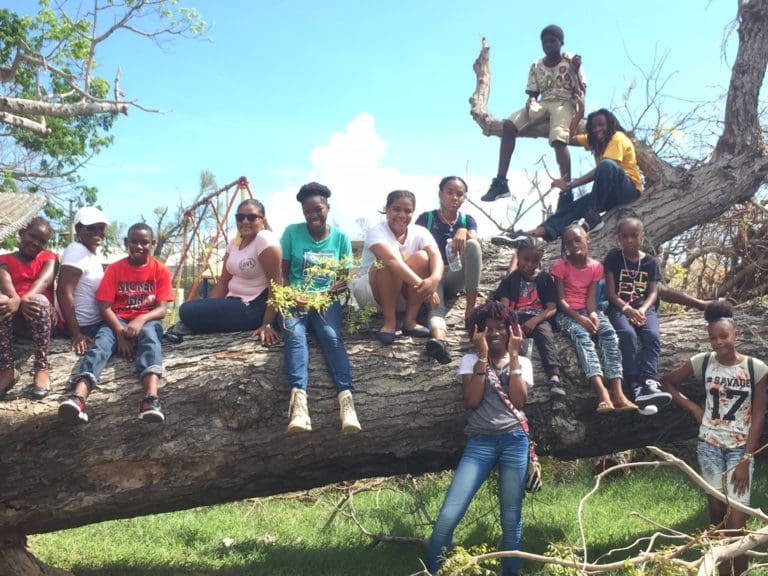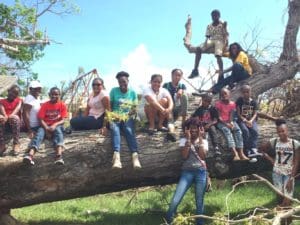 "Today, as we reflect on how far we have progressed since the passing of Hurricane Maria one year ago, we are extremely grateful for the friends and connections we made along the way, as well as the support we received from our community and beyond," said Project Promise founder Resa O'Reilly. "Without those partnerships, we would not have accomplished as much as we did in the immediate aftermath of the effects of the two Category 5 hurricanes that the Virgin Islands experienced in September 2017."
The devastation across St. Croix was extensive and far-reaching, and every one of Project Promise's Caterpillar Project students' families were greatly impacted. Project Promise's immediate thoughts were to see how they could help their families and restore a sense of normalcy for them. As a result, three weeks after Hurricane Maria, Project Promise was able to resume programming for its students despite the fact that their classroom at Lew Muckle Elementary School was no longer an option, and much of their equipment and supplies were lost.
They changed the curriculum to focus on healing after the storm, and they were able to offer it to both students and their siblings thanks to the generosity of Island Therapy Solutions, who donated a space for the group, as well as group therapy sessions.
Through generous donations, the community's support and a grant, the organization was also able to provide generators for each of the students' families as well as furniture to replace the items damaged by the storm. It received numerous donations of food and supplies, which were distributed to their families.
In addition to being on the receiving end of the community's generosity, the Caterpillars also did their part to help the community recover through various community service projects. They planted over 40 coconut trees across a St. Croix beach in an effort to help restore some of the local agricultural life destroyed after the storm. They even helped the local pony club with its recovery efforts.
In April, Project Promise rolled out the St. Croix Trauma Intervention and Relief Project, a four month-long initiative aimed at targeting the mental health needs of the community. Working together with The Coaching and Leadership Professional Training Institute out of Chicago, they trained several individuals to become life coaches, as part of the first step in trauma intervention. In the second phase of the program, those individuals went into several communities across St. Croix to help residents deal with the psychological after-effects of Hurricane Maria.
Some members of the team also went into local schools to address the challenges teachers and students had been facing since the storms. Subsequently, more than 150 residents participated.
The giving did not stop. In July, Project Promise donated nearly $10,000 to educate 30 primary school students in South Africa. It was made possible by the Caterpillars, Project Promise staff, volunteers and community donors who helped raised the money.
"We can't begin to express our appreciation for the members of this community, the businesses and the organizations both near and far who supported us throughout this tumultuous year and helped aid our efforts in getting our community back on its feet," O'Reilly said. "We say a resounding thank you, and we look forward to another amazing year!"