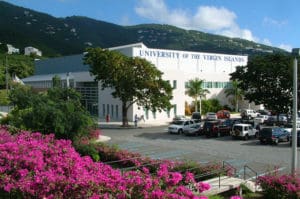 The University of the Virgin Islands to Receive $11 Million in Grant Allotment; Education Secretary DeVos Announces Emergency Assistance to Higher Education The U.S. Department of Education Secretary Betsy De Vos announced on Tuesday, Aug. 28, that under the Emergency Assistance to Institutions of Higher Education Program, $63 million in new federal assistance will be awarded to 47 institutions of higher education. Through this initiative, the University of the Virgin Islands will receive an allotment of $11,174.451, which is the largest amount allotted to any of the institutions selected.
"This emergency assistance will provide vital resources for those lives that were impacted by disasters in 2017," said Secretary De Vos. "As those on the ground work every day to recover, the department will continue to be a partner and resource to get institutions, students and faculty back on their feet."
President David Hall indicated that "this grant award to the University of the Virgin Islands will have a major impact on our ability to rebuild the numerous buildings that were damaged or destroyed on our campuses. We are deeply appreciative for the support provided by Secretary DeVos and the Department of Education. UVI will reclaim the usefulness and beauty of its campuses much faster because of this support."
More information is available in a news release on the Media Section of the UVI website – http://www.uvi.edu/
Coast Weeks Coastal Clean-up on St. Croix to Begin on Sept. 15 The Virgin Islands Marine Advisory Service (VIMAS) is organizing Coast Weeks under the theme, "Fighting for Trash Trees Seas." This initiative forms part of TOC's International Coastal Cleanup starting on Sept. 15 through Oct. 31. An invitation is extended to everyone to plan a coastal clean-up.
Interested persons can join already established clean-up groups which includes:
– St. Croix Environmental Association
– The St. Croix Educational Complex
– UVI's Psychology Club
– Department of Planning and Natural Resources
– UVI's Upward Bound
Individuals are also advised that they can initiate and organize a clean-up group. Pre-cleanup presentations will be provided by VIMAS. Clean-up gear and material to include trash bags, gloves and data cards will also be provided. Limited funding is available for transportation to and from the clean-up sites.
For more details and to organize or join an existing clean-up group, contact Marcia Taylor at 692-4046.
UVI Center for the Study of Spiritualism to an Interfaith Wellness Festival The University of the Virgin Islands Center for the Study of Spirituality & Professionalism invites the UVI community and general public to attend an Interfaith Wellness Festival on the St. Thomas and Albert A. Sheen Campuses, respectively.
The event will take place on Sunday, Sept. 16, in the Great Hall on the Albert A. Sheen Campus. On the St. Thomas Campus, the event will take place on Sunday, Sept. 23, in the Sports and Fitness Center. Both events will run from noon to 5 p.m.
The festival is expected to be a celebration of peace, joy, unity and the rich diversity of faith organizations in our community.
The free event will feature inspiring musical performances from various religious traditions, dancing, singing, healing arts, poetry, information provided by religious organizations, children's activities, food and much more! All are invited to join this journey of enlightenment and fun.
For more information about the Interfaith Wellness Festival, contact Wendy Coram at 693-1240 or [email protected].
Anderson Family Establishes $2 Million Endowment in Support of UVI Students The University of the Virgin Islands received a transformational gift from the Marion & John E. Anderson Foundation on Aug. 30 in a ceremony that occurred on the Albert A. Sheen Campus. UVI is among a group of non-profit organizations in the territory that were selected to be a part of the family's philanthropic efforts in the aftermath of hurricanes Irma and Maria. This investment will be among the most significant gifts the University has received in recent years.
The Anderson Family will establish the TOPA Endowment with an initial $2 million investment. Annually, the fund will generate approximately $100,000 in scholarship funding for students who graduate from one of the local public high schools and enroll at UVI. Through the endowment, 20 students will receive full $5,000 scholarships with 10 dedicated to the St. Croix and St. Thomas campuses each.
UVI President Dr. David Hall said, "this commitment will move us closer to the day when all students who graduate from one of the territory's local high schools will have free tuition."
He went on to say, "The commitment from the Anderson family is received at the perfect time, as we are steadfast in the belief that an educated workforce is among the most pressing issues the university can address for the territory."
More information is available in a news release on the Media Section of the UVI website –http://www.uvi.edu/
Dr. Robert Godfrey of UVI's Agricultural Experiment Station Awarded for Senepol Cattle Research Dr. Robert Godfrey, Director of the Agricultural Experiment Station and Professor of Animal Science, received the Fritz E. Lawaetz Award at the 2018 Senepol Cattle Breeders Association meeting held on Aug. 8 -11 on St Croix.
The International Senepol Symposium held at the Buccaneer Hotel commemorated the 100th anniversary of the Senepol breed.
Godfrey's award, named after former senator and early pioneer on St. Croix for the Senepol breed, Fritz E. Lawaetz, recognizes his many years of service to the cattle breed. Through Lawaetz's work as one of the early forerunners on St. Croix, he helped establish the Senepol breed and make it an internationally-recognized, tropical breed of cattle.
Dr. Godfrey is truly humbled to receive this award and made sure to acknowledge that he has had a lot of help over the years conducting research on the Senepol cattle. "I consider the award for the team not just me," said Dr. Godfrey. "It helps validate that we are doing valuable research."
The honor of Fritz E. Lawaetz Award is shared with Henry Nelthropp, Adam Weis, Whitney Preston, Christy Ketring, Sue Lakos, Willie Gonzales and Jose Torres.
More information is available in a news release on the Media Section of the UVI website –http://www.uvi.edu/
Chapman Named as Executive Director of the University of the Virgin Islands Research Technology Park The Research Technology Park Board is excited to announce Peter H. Chapman as the new executive director of the Research and Technology Park (RTPark) of the University of the Virgin Islands. The announcement follows an intensive international executive search by The PACE Group.
"Mr. Chapman was a clear choice to take the RTPark to the next level in growth and development," said Edward Thomas, Chairman of the RTPark Board. "His national and international experience, knowledge of economic and community development, and his ability to manage and lead were the reasons we selected him from several great candidates."
Chapman comes to the RTPark from the Detroit Economic Growth Corporation (DEGC), where he served as Executive Vice President for Business Development. In this role, he led the execution of a sector-based strategy to encourage larger domestic and foreign companies to locate and expand operations in Detroit. An accomplished economic and community re-development strategist and practitioner, Chapman holds over 20 years of executive leadership experience in several other U.S. markets including Boston, Nashville, Denver, and Virginia. He has conceptualized and implemented a diverse array of award-winning and nationally-recognized projects and initiatives during this time.
Among other successes, he re-energized and expanded DEGC's business development function by establishing a high-performing team that facilitated approximately 4,600 new jobs through the attraction of companies such as Tata Technologies, Google and Microsoft.
More information is available in a news release on the Media Section of the UVI website –http://www.uvi.edu/
First Cohort of Students Graduate from UVI at USM From a graduating class of 33, 12 graduated from the University of the Virgin Islands (UVI) at the University of St Martin (USM) on Aug. 18 at the Belair Community Center in Sint Maarten.
The graduating UVI at USM class is the first cohort of students to have completed their respective degrees under a Memorandum of Understanding (MOU) with the University of St. Martin (USM). Through the MOU, students from St. Maarten/St. Martin are able to study at UVI without having to leave the island.
The successful students completed undergraduate and graduate degrees in education and business administration.
UVI's President David Hall thanked the students for their tenacity and resilience and challenged the students to use their degrees to make a difference in their community and world. "The entire University of the Virgin Islands (UVI) community is proud of the tremendous tenacity and resilience of all of the students of the University of St. Martin (USM) for your achievements," said President Hall. "I am also especially proud of those students who are receiving their degrees from the University of the Virgin Islands (UVI). You are pioneers and we hope many will follow in your footsteps."
More information is available in a news release on the Media Section of the UVI website –http://www.uvi.edu/
UVI Receives Major Gift from Diageo for Process Technology Program
Scholarships to be expanded and students to conduct energy research The University of the Virgin Islands (UVI) announced Aug. 22, the receipt of a $250,000 gift from Captain Morgan's parent company, Diageo, in support of its Process Technology program housed in the College of Science and Mathematics. As a part of ongoing efforts to enrich and grow the Process Technology program, the funds will be used for scholarships and to support research in the areas of energy and water management. The research is anticipated to produce valuable information and potentially actionable ideas for the U.S. Virgin Islands and the Caribbean region, especially when major disasters strike.
UVI President David Hall said: "This support from Diageo is not a one-off; it represents the latest in a series of investments by Diageo in our Process Technology program. It also symbolizes the type of partnerships with industry that UVI needs to reach our full potential."
More information is available in a news release on the Media Section of the UVI website – http://www.uvi.edu/
Coastweeks Seeking Volunteers for Debris Clean-up Beginning Sept. 15 The Virgin Islands Marine Advisory Service (VIMAS) is seeking volunteers for beach clean-up starting on Sept. 15 and continuing through to Oct. 31.
The first beach clean-up will be at John Brewers Bay at 9 a.m. on Sept. 15. This is an opportunity to help with the removal of harmful debris from our beaches that could negatively impact wildlife.
For more information, contact Howard Forbes at 693-1672 in the Center for Marine and Environmental Studies or e-mail: [email protected].
EPA Announces Environmental Education Grant to the University of the Virgin Islands – Grant will support careers in marine and environmental sciences On Thursday, Aug. 22, the U.S. Environmental Protection Agency (EPA) announced that the University of the Virgin Islands has been selected to receive funding to support career development in marine and coastal science among students in the U.S. Virgin Islands. EPA anticipates that it will award UVI an Environmental Education grant in the amount of $100,000 once all legal and administrative requirements are satisfied.
"We are very pleased to select the University of the Virgin Islands to receive this funding and are excited that they are partnering with a number of organizations to help students understand how integral marine and coastal science is towards promoting environmental health, sustainability and the economic viability of the islands," said Pete Lopez, EPA regional administrator. "Locally focused environmental education projects like this increase public awareness and knowledge about environmental and conservation issues and provide the skills needed to make informed decisions and be wise stewards of the environment."
More information is available in a news release on the Media Section of the UVI website –http://www.uvi.edu/