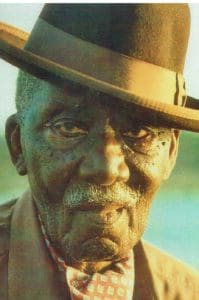 George Monoah Joseph, also known as "Nugget," who was a son, brother, father, husband, police officer, fireman, clerk, baker, pharmaceutical technician, manager, steel band player and one of the founding members of the Hell's Gate Steel Band, has passed away at the age of 102 years old.
He was preceded in death by parents; wife, Florence Joseph; and son, Hofseph Joseph.
He is survived by 13 children: Barrymore Joseph, Follette Skerritt, Anesten Joseph Livingstone, U'jamaa Old (Rudy), Vincere Joseph, Oswald Heskeff Joseph, Cornel Joseph, Cicicly Joseph Bryan, Lydia Joseph, Zucan Bandele, Julice Joseph, Lendore "Len" Joseph and Beverly Joseph; and 49 grandchildren: Ronda Joseph Henry, Drewsdale, Abigail, Stacey Joseph, Philbert Joseph, Gregory Mason, Jamillah Meyers, Anika Mason Ward, Jamal and Yanique Old, Kiko Nisbett, Ayinde George, Sean, Sharon, Sharonlyn, Stacy, Marva and Terry Skerritt.
He is also survived by grandchildren: Halima, Kalimah, Ngozi and Mudiwa Joseph, Okang, Indiera, Asa, Nanyamka and Anum Bandele, Denise Joseph Harris, Carolyn, Dwain, Mervin, Noel and Winston Joseph, Adama, Anieka and Abdul Drew, Francois, Stefan, JB Bryan, Vance Joseph, Michael, Duane and Rene Livingstone, Shango Zachariah, Omel Martin, Cathy, Carvelle and Lindsay Joseph; 74 great-grandchildren; 24 great-great-grandchildren; and nieces: Ivy Barrow, Jeane Joseph, Cicely Daniel, Holly Peters, Ellenor Moncrief, Phyllis Mclaughlin Joseph andTamara Charles.
Other survivors include nephews: Wesley, Mckenzie Barrow, Steve, Paget, David and Michael Joseph; sons-in-law: Errol Skerritt and Butch Bryan; daughters-in-law: Joycelyn Joseph (former), Naomi Joseph and Hilarine Old; special family and friends: Sir. Clare K. Roberts, Emanuel Silva, Thomas Woodrup, Stafford Joseph, Ada Heath and family, Robin Barcus, the Hampson and Archibald families; Draft Crew: Thomas "Champ' Woodrup, Bernard "Bully" Azille, Ivan Henry, Frankie 'Frank' Johnson, Anthony 'Tony' Auvain, Edoor 'Columbus' Richards and Okeyno 'Mailman' Hodge; as well as a host of other family and friends who are too numerous to mention.
A viewing will take place at 10 a.m. followed by a funeral service at 11 a.m., Tuesday, Sept. 18, at Speak the Word Ministries in Peter's Rest.
A second viewing will take place at 1 p.m. followed by a funeral service at 2 p.m., Tuesday, Sept. 25, at Wesleyan Holiness Church in Ottos, Antigua. Interment will be at St. John's Cemetery.
The family wishes to thank all who assisted us over the last three months with his care as he transitioned from this realm.
Arrangements are by Divine Funeral Home and Barnes Funeral Home.