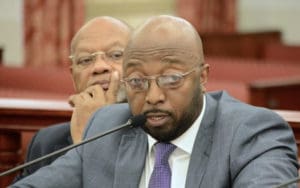 In accordance with Virgin Islands law, testing for the rank of correction officer territory-wide will take place Oct. 23-25, according to Division of Personnel Director Milton E. Potter.
Qualifications:
A candidate must have completed the 12th grade or possess a GED. The candidate must also possess or be able to obtain a Motor Vehicle Operator's License; must be a United States citizen at least 20 years of age and not have reached his/her 46th birthday. Candidates must successfully pass the Civil Service Examination online, physical agility test, psychological exam and oral board interview. He or she must pass a comprehensive background check.
Deadline date: September 28
The testing dates: October 23-25
Note: All interested candidates must sign-up and submit a complete application package online at www.dopusvi.org by 11:59 p.m., Friday, Sept. 28, 2018. An online preparation manual and practice tests that simulate the full-length version of the exam are now available for a minimum fee.
The following candidates will be exempted from sitting the written examination, but they are required to meet all other established criteria for qualification.
• Persons holding a degree in any field of study (associates and above) from an accredited institution
• All honorably discharged veterans from any branch of the U.S. Armed Forces (DD214)
• *National Guardsmen/Air Guard Reserve serving in specialized Military Police (MP) unit for at least two years in good standing
• *Current/former police cadets who successfully completed established police cadet curriculum along with written verification from VIPD officials.
For further information, contact Loretta David, personnel analyst on St. Thomas, at 774-8588 or Zolymar Garcia, personnel analyst on St. Croix, at 718-8588.
The Division of Personnel is an Equal Employment Opportunity Employer.