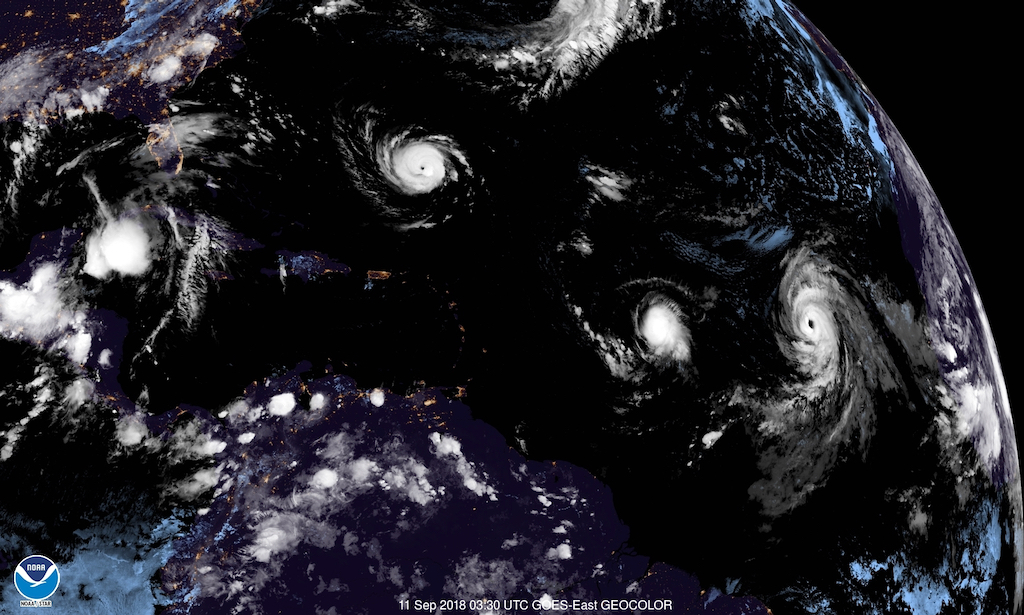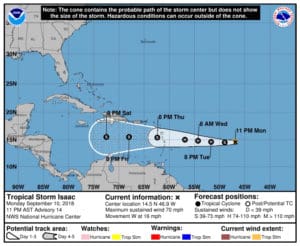 The U.S. Coast Guard Captain of the Port San Juan set port condition Whiskey effective at 8 p.m. Monday for the the U.S. Virgins Islands and Puerto Rico in anticipation of the approach of Tropical Storm Isaac, which weakened slightly Monday evening but is still expected to be at or near hurricane force as it passes through the region later this week.
Port conditions are used to alert the maritime community to changes in port operations needed to prepare for the arrival of a tropical storm or hurricane.
The port conditions established by the U.S. Coast Guard, are:
Whiskey: Gale force winds (34 knots or 39 mph) are predicted to arrive within 72 hours.
X-Ray: Gale force winds are predicted to arrive within 48 hours.
Yankee: Gale force winds are predicted to arrive within 24 hours. Ports status: Closed to inbound traffic and vessel traffic control measures in effect on vessel movements within the port.
Zulu: Gale force winds are predicted to arrive within 12 hours. Port closed to all inbound and outbound traffic.
Recovery: The storm is no longer a threat to the area, however some damage may have occurred and response and recovery operations are in progress.
During port condition Whiskey, port facilities are open to all commercial traffic and all transfer operations may continue while Whiskey remains in effect. Pleasure craft are advised to seek safe harbor. Maritime and port facilities are reminded to review and update their heavy weather response plans and make any additional preparations needed to adequately prepare in case of a potential impact to the area.
Mariners are advised there are no safe havens in these facilities, and ports are safest when the inventory of vessels is at a minimum. All ocean-going commercial vessels 500 gross tons and above should make plans for departing the port.
Coast Guard Captain of the Port San Juan anticipates setting port condition X-Ray at 8 p.m. Tuesday.
While most of the nation's attention is on Hurricane Florence, which on Monday blew up into a Category 4 hurricane that is threatening the U.S. east coast, in the Caribbean all eyes are on Tropical Storm Isaac.
In its 11 p.m. update, the National Hurricane Center reported that Isaac had weakened slightly during the evening, but cautioned that it is still likely to be at or near hurricane strength when it passes through the regions. Several microwave images that arrived at the NHC after the 5 p.m. update revealed that the low-level center of Isaac had raced ahead of the main convective mass.
"The system is poorly vertically aligned," the NHC reported at 11 p.m. "The system also recently passed very near NOAA buoy 41041, which confirmed that the center is on the western side of the central dense overcast. The maximum winds observed by the buoy were only about 30 knots."
The NHC's forecasters retained high confidence in the track forecast, which predicts Isaac will move westward into the Caribbean within the next 72 hour (or Thursday evening.) The NHC track forecast continues to favor "the typically more reliable global models" and shows a steady westward motion.
The hurricane experts cautioned: "Interests in the Lesser Antilles should continue to monitor Isaac during the next few days. Watches will likely be required for portions of the Lesser Antilles" on Tuesday.
The Coast Guard is warning the public of these safety messages:
– Stay off the water. The Coast Guard's search and rescue capabilities degrade as storm conditions strengthen. This means help could be delayed. Boaters should heed weather watches, warnings, and small craft advisories.
– Evacuate as necessary. If mandatory evacuations are set for an area, the public should evacuate without delay. Coast Guard personnel and other emergency responders may not be able to evacuate or rescue those in danger during the storm.
– Secure belongings. Owners of large boats are urged to move their vessels to inland marinas where they will be less vulnerable to breaking free of their moorings or to sustaining damage. Trailer-able boats should be pulled from the water and stored in a place that is not prone to flooding. Those who are leaving their boats in the water are reminded to remove EPIRBs and to secure life rings, lifejackets and small boats. These items, if not properly secured, can break free and require valuable search and rescue resources be diverted to ensure people are not in distress.
– Stay clear of beaches. Wave heights and currents typically increase before a storm makes landfall. Even the best swimmers can fall victim to the strong waves and rip currents caused by hurricanes. Swimmers should stay clear of beaches until local lifeguards and law enforcement officials say the water is safe.
– Be prepared. Area residents should be prepared by developing a family plan, creating a disaster supply kit, having a place to go, securing their home and having a plan for pets. Information can be found at the National Hurricane Center's webpage.
– Stay informed. The public should monitor the progress and strength of the storm through local television, radio and internet. Boaters can monitor its progress on VHF radio channel 16. Information can also be obtained on small craft advisories and warnings on VHF radio channel 16.
– Don't rely on social media. People in distress should use 911 to request assistance whenever possible. Social media should not be used to report life-threatening distress due to limited resources to monitor the dozens of social media platforms during a hurricane or large-scale rescue event.
Shared content for Virgin Islands Source and St. John Tradewinds.