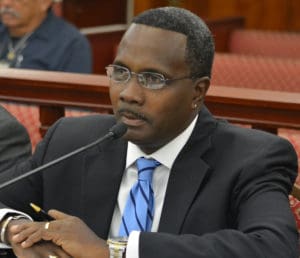 The V.I. Hurricane Recovery and Resilience Task Force published its revised, final 273-page report Thursday to help guide reconstruction and resilience efforts in the territory in the wake of hurricanes Irma and Maria.
Topics addressed in the report include government response to the storms, as well as recommendations for recovery and future resilience in: energy; climate risks; telecommunications; transportation; water; solid waste and wastewater; housing and buildings; health; vulnerable populations; education; economy; nonprofit, philanthropy and voluntary organizations.
Gov. Kenneth Mapp established the group last October under the Office of the Governor. It includes local officials and community members, business and environmental experts and others from around the United States. One of its responsibilities is tracking and monitoring distribution and spending of federal disaster assistance funding and private donations, including the Community Fund for the Virgin Islands.The fund is administered by the Community Foundation of the Virgin Islands.
The report includes 228 initiatives related to the USVI's continuing recovery and focused on improving long-term security and economic growth, with a special focus on critical infrastructure, public services, and increasing businesses' resilience in future storms and other natural disasters. The recommendations, some of which are begun,generally fall into four major strategy groups: harden infrastructure; reconfigure systems; change governance and regulation; and improve planning, coordination and preparation, according to a release from Government House.
According to Government House, the majority of the recommendations outlined in the report will be paid for with federal recovery funding. The two major sources are Community Development Block Grants for Disaster Recovery from the U.S. Department of Housing and Urban Development and various funds from the Federal Emergency Management Agency. As of June, the USVI is expecting $1.86 billion in HUD money and $2.47 billion in FEMA money. Implementation of the report will be led by a separate office. This office will release annual progress reports discussing updates and forward momentum on the implementation of initiatives in this report through 2021.
Following a public comment period from July 20 to 30, when the report was released online and in printed book form, the task force underwent a month of editing to implement community feedback and comments. In total, the task force collated more than 500 comments from more than 100 readers throughout the territory. Suggestions came from individuals, local government agencies and organizations, and federal agencies. The final report incorporates more than 1,000 changes in content and design, in addition to integrating comments and updates.
"We received wonderful, thoughtful feedback that guided our revisions" Dina Simon, CEO of the task force said. "This report provides a foundation for the long-term effort to strengthen the U.S. Virgin Islands for many years to come."
The final report can be accessed at www.usvihurricanetaskforce.org. Hard copies will be available beginning the week of September 17 on St. John at the St. John Community Foundation and Long Term Recovery Offices Suites 201, 203, 205 at the St. John Marketplace, Third Floor; on St. Croix at Florence A. Williams Public Library; on St. Thomas at Charles W. Turnbull Regional Library; and at the Administrator's Offices on all three islands.
Funding decisions were made by the Task Force Advisory Committee, led by West Indian Company President Clifford Graham, and Simon.
Most of the funding went to charitable purposes, although there was controversy about one set of questionable expenditures. At a news conference Feb. 7, Mapp gave out checks of charitable hurricane recovery donation money to several private radio stations that operated during the hurricanes.
The grants have become controversial for many reasons, but particularly because they are private for-profit businesses. Also, private radio stations in the territory play a major role in political campaigns in the U.S. Virgin Islands, airing commentary, letting some candidates and officials host radio shows, and airing large numbers of political advertisements.
Mapp is running for reelection this fall. Mapp did not announce any other charitable grants at his press conference. although the charitable fund, managed by the Community Foundation for the Virgin Islands, gave out millions of dollars and the radio grants were less than five percent of the total.
According to the IRS's guide for 501(c)3 charities for compliance with tax exemption rules, "A public charity is prohibited from allowing more than an insubstantial accrual of private benefit to individuals or organizations. This restriction is to ensure that a tax-exempt organization serves a public interest, not a private one. If a private benefit is more than incidental, it could jeopardize the organization's tax-exempt status."
The IRS does talk about charities giving to private radio stations. Another guide, about what types of private benefit are not allowed, cites an actual IRS ruling that denied a tax exemption to a charity for helping a private radio station.